war
Senate scrutiny of John Brennan to head CIA brings issue to forefront
Feb 16 2013
As the confirmation hearings by the Senate of John Brennan to be named CIA director drew near, the heat intensified over the program of death by drone enough to cause the Obama White House to finally relent, pledging to release to lawmakers the document that it had even gone to court to keep secret.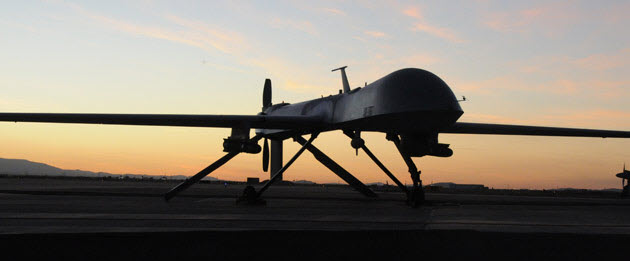 An opinion from the Office of Legal Counsel, the document gives the President legal cover for killing, without due process of trial, an American citizen in September of 2011 in Yemen and of his 17-year-old son two weeks later. The practice of conjuring after-the-fact legal justifications for deeds already done brings to mind the opinions issued by that same office during the Bush administration that blessed "enhanced interrogation techniques", otherwise known as torture.
kill list criteria
Just days before the hearing, NBC News had obtained and released a copy of a white paper that supposedly summarized the contents of the longer opinion. That finally undercut the White House's long campaign to keep secret its arguments why a program of targeted killing is constitutionally defensible, but, even with the white paper out in the open, the full opinion is still classified and may be read only by intelligence committee members. That should make clear that the rights claimed for the President are far more incendiary than in the summary.
The white paper sets three requirements for what it deems lawful "lethal force in a foreign country" against "a senior operational leader of al-Qa'ida [government spelling] or an associated force". That license to kill specifically includes "an operation against a U.S. citizen". The target must (1) "pose an imminent threat of violent attack against the United States, (2) capture is infeasible…and (3) the operation would be conducted in a manner consistent with applicable law of war principles".
The program immediately runs aground with the word "imminent" — is the government hoping we will believe there were hundreds of plots afoot when it eliminated the hundreds so far killed? — so the memo is at pains to expand imminent's meaning beyond recognition. In a speech last March, Attorney General Eric Holder said imminence does not require knowledge of a specific attack on U.S. persons or interests. If the U.S. believes that the target has in the past been involved in violent activities and has not renounced such activities, that has come to mean "imminent" and justifies an attack.
Similarly, as apparently capture is almost never attempted, the question of what are the criteria that determine infeasibility arises? This is a reversal of the Bush-era practice, where drones — not then so fully developed — were used less and capture used more. But now, avoiding risk to American personnel seems universally to decide the matter.
Those who press for capture — or who ask why don't we first offer surrender — seem clueless about the harrowing prospect of dropping special operations troops into remote and forbidding patches of Pakistan or Yemen and then extracting them safely after a… Read More »