FiveThirtyEight, the statistical website that tracks politics and elections, canvassed the country to find that nearly every state has candidates for office in this fall's election who agree with Donald Trump that the 2020 election was stolen from him (see their graphic below). They directly asked every Republican nominee for the House, Senate, governor, secretary of state or attorney general to express that belief.
Out of 552 total Republican nominees running for office, 201 either clearly stated that the election was stolen or had taken legal action such as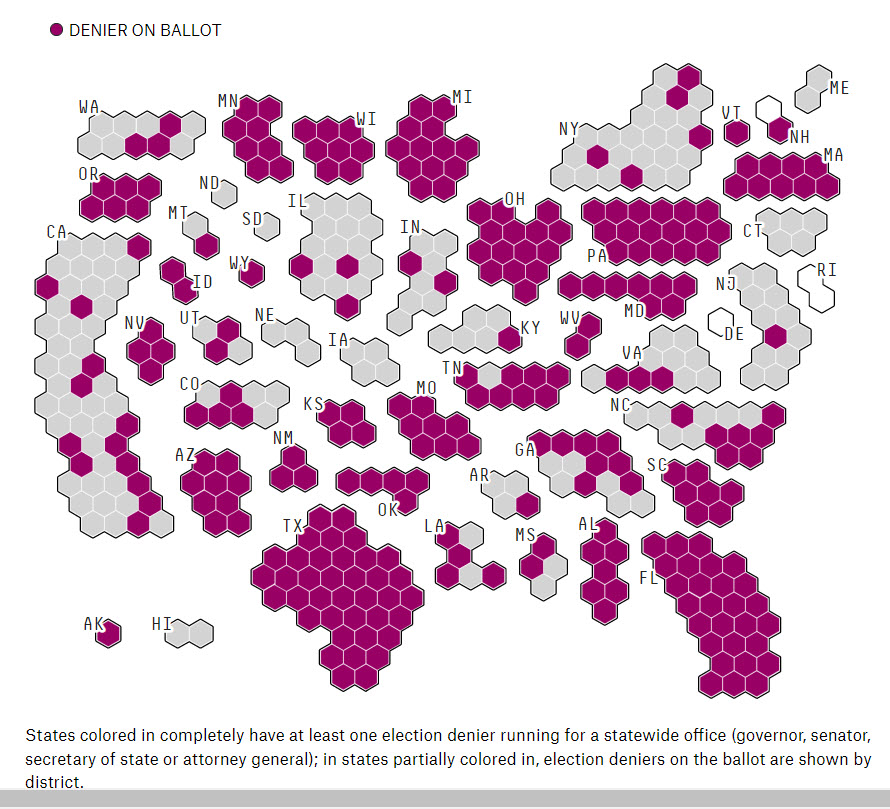 voting not to certify election results, or had joined lawsuits that sought to overturn its outcome. An additional 61 didn't go that far but expressed misgivings about the legitimacy of Biden's win.
Within the states, research by The New York Times plumbed votes, records and candidates' official statements to find in a report this May that at least 357 sitting Republican legislators in the nine most closely contested battleground states — 44% — have used their office "to discredit or try to overturn" the 2020 presidential election.
That's the picture of how deeply engrained is the Big Lie almost two years on from the 2020 election with the 2022 elections imminent.
Nothing will change their minds at this late date, but there might be some utility to spelling out just how absurd a lie millions in this country have subscribed to. Utility being that everyone who reads this could pass it on. Our article's length is already abbreviated. The Big Lie is a very big story.
THE HOAX
Beginning months before the election, former President Donald Trump began a campaign against expanded use of mail-in ballots. To mitigate the spread of COVID, the states had greatly augmented their use to relieve voters from congregating in polling places. Knowing that Democrats, being more risk averse, would be the heavier users of mailed ballots, Trump wanted his followers to think them somehow illicit: "There is NO WAY (ZERO!) that Mail-In Ballots will be anything less than substantially fraudulent", he tweeted.
There was no basis for this. There have always been absentee ballots. Instead of in-person voting, five states have for years been using mailed ballots exclusively without incident.

In a barrage of tweets, Trump was setting up to claim that, should he lose the election, he had actually won it, that the Biden campaign had planted hundreds of thousands of false ballots to steal the presidency. In a July rally, he told the crowd that Democrats cannot "win elections without cheating." In one week in June, Trump had tweeted four times of foreign sabotage.
THE ELECTION
Trump and the media knew that Republicans, defiant about mask mandates challenging their constitutional freedoms, would tend to go to the polls to vote in-person. That would give him an early lead in the key battleground states. Votes by Democrats, as the greater users of mailed ballots, would barely be counted early on election night. The wave would swell in… Read More »