Conservatives were handed the long-sought grail of shrinking the federal government's power and moving it to the states when the Supreme Court overturned Roe in June. Trigger laws that ban abortion awaited in thirteen states, eight other states enacted immediate bans, and still more plan to outlaw the procedure in varying degrees. Together they aggregate to almost half the country, setting off a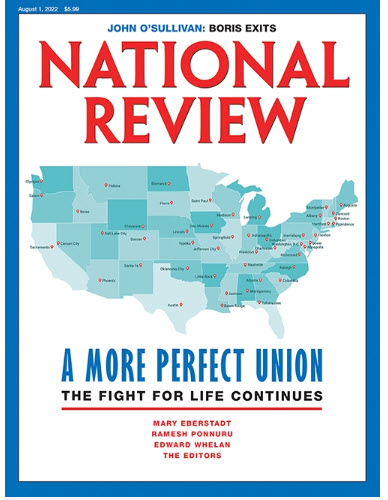 scramble for patients, medical workers, lawyers, and state officials to deal with the seismic change. The cover of the conservative National Review magazine proclaims without irony "A More Perfect Union" with artwork showing the patchwork quilt of abortion laws splintering the states into anything but a union.
The transfer of power to the states — "to the people's elected representatives" in Justice Alito's words in his Roe opinion — would be a return to the years before the Civil War when southern Democrats argued that the federal government had no right to interfere with state matters. In his concurring opinion, Justice Thomas voiced his opinion that the Fourteenth Amendment doesn't provide a basis for creating new rights. That set off alarms that other rights also anchored to the amendment — the right to use contraceptives, the privacy of sexual acts, same-sex marriage — are on the conservatives' checklist for reversal. If not banned outright, they too would be left to the states to pick and choose.
Politicians joined in. Marriage should be "left to the states," said Texas Senator Ted Cruz. Obergefell v. Hodges, the ruling that allowed same-sex marriage, was wrong, he said. Missouri Senator Josh Hawley said that he had never supported that 2015 Supreme Court decision. Marriage is nowhere in the Constitution,
"and I think the states — traditionally that has been — because the definition of marriage…the states have defined it one way or another and I think that that's the right difference".
Florida Senator Marco Rubio agreed with Hawley. Tennessee Senator Marsha Blackburn thinks Griswold v. Connecticut, the 1965 decision… Read More »