Right off, we can't proceed without attempting a definition of "New Right", a term you perhaps have heard of but probably know little further, not least because, like antifa, it isn't a formal organization and has no consistent doctrine, other than a strident discontent with how things have turned out.
Mostly they are a well-educated élite who The New Republic identified as "radical young intellectuals", many of them PhDs,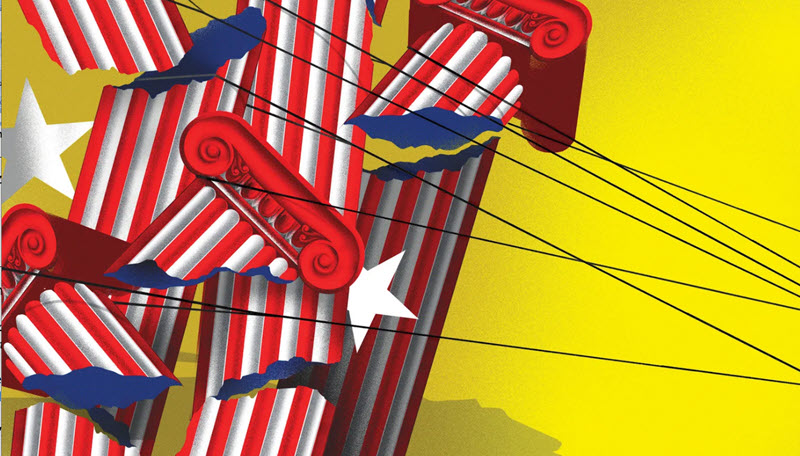 Art by Brian Stauffer for Vanity Fair

with a wildly diverse set of political viewpoints that run from Marxists to monarchists, and yet looking to Donald Trump as the right man for the moment.
The new Republicans are the populist inversion of their pro-business, free-market predecessors. For them, woke corporations, big tech, leftist media, and the academic élite control everything "from your smartphone to the money supply to your third grader's curriculum", as culture commentator David Brooks put it. The worship of free markets has allowed the runaway growth of big tech companies and other left-tilting corporations that through apps and social media dominate the culture while their free-trade dogma has exported jobs in the millions devastating working class communities.
At a National Conservatism Conference (NatCon) that Brooks attended, firebrand Rachel Bovard railed against "woke elites" for "dominating every cultural, intellectual, and political institution." The enemy is the left-wing…
"the totalitarian cult of billionaires and bureaucrats, of privilege perpetuated by bullying, empowered by the most sophisticated surveillance and communications technologies in history."
New Right Republicanism champions a populist ethos that flips on its back the Party's traditional favoritism for Big Business.
Blake Masters, who ran for the Senate in Arizona in 2022… Read More »