The fight over abortion is a war without end because it has always been conducted at extremes. The Alito doctrine resolves none of that because, assuming Roe v. Wade is overturned on his terms, the justice has only moved the issue from one extreme to the other.
For the 50 years since the Supreme Court ruling in 1973, the law of the land has permitted abortion up to the point of "viability", defined as when the fetus can survive on its own outside the womb, set at 23 weeks of pregnancy. This is the left-wing extreme position which says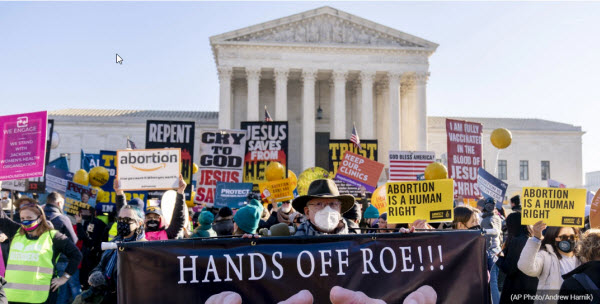 that up to that point it isn't really a human, so it's okay to destroy it. Before that, not quite ready to go forth umbilically untethered, so disposable. It's true that few abortions occur that late, but demanding the absolute freedom of "my body, my choice" for the full 23 weeks without regard to that second life is abhorrent. What if the viability standard were applied to those helplessly intubated with COVID, or to the old in nursing homes who cannot manage unaided. Just let 'em go? The pro-choice absolutists fear they cannot compromise because the pro-lifers never will.
The pro-lifers at the other extreme insist a human is formed at the moment of conception when sperm penetrates egg. Or earlier. Listen to what the fervidly religious Mike Pence said — and in a campaign debate, no less,
"The sanctity of life proceeds out of the belief [in] that ancient principle where God says 'before you were formed in the womb I knew you.'"
You didn't know it but your pregnancy was God's plan. This is where the fanaticism of religion takes over and words such as "sacred" are invoked. It is the moment at which a cluster of cells becomes "ensouled" with no regard to what is actually happening physically in… Read More »