Republicans of the Arizona senate have set out to prove that the three audits, reviews, and recounts of the state's 2020 presidential election came up with the wrong answer. It's always been a red state (1996 presidency excepted). Biden couldn't have won.
To uncover the fraud that must be the only explanation, yet another count of the 2.1 million ballots of Maricopa County was ordered by the state senate and is underway as we write.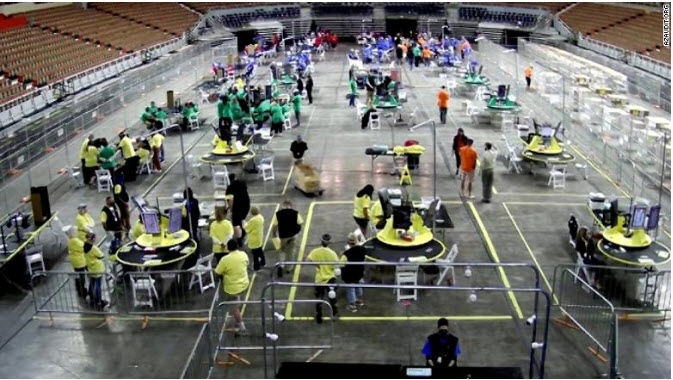 Recount taking place in the Arizona Veterans Memorial Coliseum

Maricopa weighs in with two-thirds of the state's votes; its votes delivered the wins for Democrats Biden and former astronaut and now Senator Mark Kelly, so other counties were not considered. And only the election of Biden and Kelly are being analyzed. Apparently there was no fraud in any of the races around the state that Republicans won.
The former president is, of course, ecstatic. He put out a "Statement by Donald J. Trump, 45th President of the United States of America" thanking "the brave and patriotic Republican State Senators from Arizona for the incredible job they are doing", admonishing Democrats for sending lawyers to Arizona…
"in an effort to stop this recount and full transparency because THEY KNOW WHAT THEY DID! The Democrats are desperate for the FRAUD to remain concealed because, when revealed, the Great States of Wisconsin, Michigan, Georgia, New Hampshire, and the Great Commonwealth of Pennsylvania, would be forced to complete the work already started."
He concluded with "I predict the results will be startling".
only one acceptable answer
Arizona's vote has been audited by federally accredited firms, twice, with a second audit ordered by the state legislature, and by a hand count overseen by both parties. Biden's win was certified unanimously by the Board of Supervisors of Maricopa County which has five… Read More »