war
Obama's Hidden War: Peeling Back the Layers of Secrecy
We…the people…are not entitled to know
Feb 15 2013


As the use of drones increased in the Waziristan tribal areas of Pakistan, inaccessible to U.S. ground forces, a New York Times exposé in May of 2011 revealed that the White House itself was calling the shots from a "kill list" maintained by Obama's counter-terror advisor, John Brennan. He who has now been nominated to head the CIA.
The drone war, since ramped up in Yemen and elsewhere, has still not even been acknowledged to exist by the White House. The Obama administration has decided that it is none of the public's business. The White House has steadily denied Freedom of Information Act requests to obtain copies of the 2010 opinion the Office of Legal Counsel's served up to make the assassination by this administration of even Americans legal (see related story). What irony, considering that on taking office, this president, over the protests of the CIA, found it only proper and transparent to release the similar and linguistically tortured Justice Department legal opinions that absolved the Bush administration of its physical torture practices.
The American Civil Liberties Union and The New York Times sued, which led to an unusual ruling from federal judge Colleen McMahon of the New York Southern District. She sided with the government but not without giving the Obama administration a tongue-lashing:
"I can find no way around the thicket of laws and precedents that effectively allow the executive branch of our government to proclaim as perfectly lawful certain actions that seem on their face incompatible with our Constitution and laws while keeping the reasons for their conclusion a secret".
It is not just this legal memo that the government keeps hidden. In 2011, Ron Wyden (D., Ore.) sought an amendment to the USA Patriot Act requiring the U.S. government "to end the practice of secretly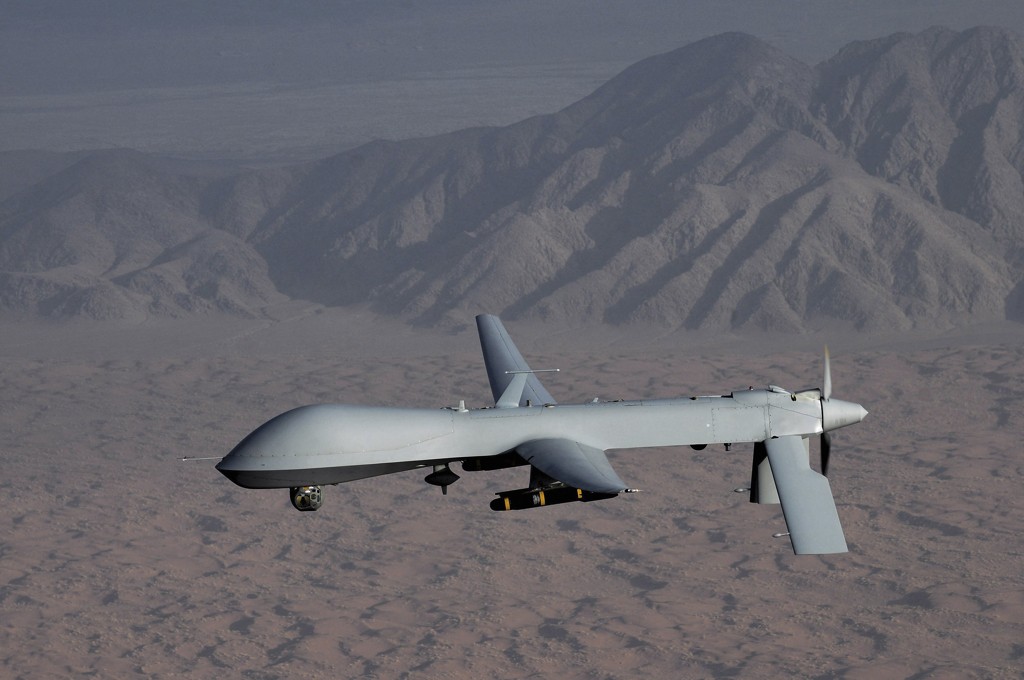 interpreting law" and warned, "I believe many members of Congress who have voted on this issue would be stunned to know how the Patriot Act is being interpreted and applied", but Congress is filled with the unknowing who have robotically renewed the Orwellian-titled "Patriot Act" knowing nothing of its confiscation of civil liberties.
how the drones take flight
With the public not privy to the secret program, how it operates can only be pieced together.
The Washington Post tells us that candidates for elimination are regularly reviewed at interagency meetings held at the National Counterterrorism Center. Recommendations are passed to a panel of National Security Council officials. Their final selections are sent to John Brennan at the White House. The "kill list" has been replaced by a "disposition matrix", which sorts out how a target can be disposed of depending on where and when the opportunity presents. The Atlantic even diagrammed the process — although it can only be conjecture. Their article and the Times story had found that there are two overlapping kill lists, one in the hands of the Pentagon, the other maintained by CIA. It is the military version that is subject to interagency review and White House sign off, said the Post. Military strikes are carried out by the Joint Special Operations Command (JSoc), which comprises all special black ops forces such as the Navy's SEALs, and is active in 70 countries. But an investigative reporter cited by Wired magazine contradicts that, saying that JSoc is accountable to no one, collects its own intelligence, acts on it without hesitation and has a secret budget thought to be in the billions. According to CIA "whispers to reporters…the unit is out of control".
All of which says that no one is sure how JSoc or CIA operates. Unaccountably, in Pakistan the CIA is free to act on its own, without White House approval of targets. In Yemen, too, says The New York Times.
And yet "both CIA and Pentagon counterterrorism officials have pressed for greater freedom to attack suspected militants, and colleagues say Mr. Brennan has often been a restraining voice", says The Times. Brennan has also said he thinks CIA should get out of the killing business. But once he is installed at CIA, how will we know?
Naomi Wolf, an observer of America who is published in the U.K.'s Guardian newspaper, and who wrote a memorable and chilling article in 2007 titled, "Fascist America, in 10 Easy Steps", sees that forecast coming true. She recently had this to say about today's U.S.:
"The US executive now has a network of secret laws, secret budgets, secret kill lists, and a well-funded, globally deployed army of secret teams of assassins. That is precisely the driving force working behind what we can see. Is fascism really too strong a word to describe it?"

Please subscribe if you haven't, or post a comment below about this article, or click here to go to our front page.