foreign relations
Mission Accomplished, China Putting Squeeze on U.S. Companies
A rash of fines for alleged monopolistic practices
Nov 6 2014


The enormous Chinese market is irresistible to American multinational corporations. To gain admittance U.S. companies acceded to whatever demands the Chinese imposed, most in violation of World Trade Organization (WTO)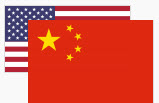 rules, and willingly handed over their technology to the Chinese with little regard as to what the consequences may be for their own future.
When China was admitted to the WTO in 2001, it was no secret that their huge export imbalance was not enough to satisfy their vaulting ambitions. The further plan was and is to replace foreign companies and imports with local production. Evidently, China under Xi Jinping has decided that time has come. It has decided that American companies have served their purpose, having transferred sufficient of their propriety knowledge and skills to their mandated joint venture partners. Government agencies have launched a campaign of penalties against U.S. corporations for alleged monopolistic practices to make conducting business in China increasingly difficult.
It has always been difficult. As foreseen before China gained membership, the People's Republic has always skirted WTO rules. The U.S. has had to impose one after another tariff on Chinese imports across the last decade to counter illegal government subsidies to their industries and their pricing manufactures at below cost to destroy competitors (so-called "dumping). "Countervailing" duties designed to offset unfair practices have been imposed on paper, steel, tires, chemicals, solar cells, wind turbines — the list of disputes is long.
China typically devises retaliatory measures, but their latest are of a different order. They have raided our corporate offices in China, pressured executives to admit guilt. Corporate executives are not allowed to bring lawyers to meetings with regulators about monopoly charges. Anti-trust trials often are concluded in a single day.
In response, U.S. companies seem uniformly to have docilely agreed to all demands rather than push back and risk further fines or possible expulsion. One reason is that the Obama administration has failed to utter a word of challenge or offer any support. Quite the contrary: the President invited the Chinese navy to participate for the first time in the 22-nation Pacific Rim naval maneuvers.
A survey by the American Chamber of Commerce in September said this is the "most hostile time since China opened its doors" three decades ago. The country has become "a less welcoming place to do business" said 60% percent of companies surveyed, up from 41% at the end of 2013.
swat tactics
Almost a hundred investigators stormed four Microsoft offices across the country in August; the company is accused of "abusing its dominant market position". Microsoft had announced in April that it would no longer support the XP version of the Windows operating system, now 13 years old. In retaliation, installation on government computers of the current version, Windows 8, was prohibited, the claim being that the U.S., which China calls "the world's biggest cyberthief", would use it for spying. The Chinese have made the same claim against Apple's iPhone. This appears to be retribution for our indicting five members of the Chinese army for cyber-espionage against the U.S.
China's supreme hypocrisy is that Microsoft has been more damaged than any other company by the Chinese for their piracy of uncountable millions of copies of Windows.
In 2012 the U.S. lodged a complaint with the WTO alleging that China unfairly subsidized auto-part exports by granting $1 billion in tax breaks and loans to companies provided they export all their product. The upshot has been that half the top 10 auto-part companies were American in 2001; now only two. In return, China is now investigating foreign automakers for whether they forced customers to buy their own makes of expensive replacement parts rather than from independent manufacturers. Companies are meekly cooperating by slashing prices.
The bigger assault is against autos themselves. What they are guilty of is quality. Again out of bounds of WTO rules, foreign automakers were required to enter into joint ventures with local partners and share patents and know-how, but the technology transfers have not worked all that well. The local partners, enjoying the money reaped by their far more popular foreign makes, haven't moved quickly enough to take over the car industry, so the government has fined Audi and Chrysler for dominating the market, accusing them of "suspected serious violations of discipline and law", phrasing used typically in corruption cases.
The Chinese view their own makes as shoddy and dangerous, as they do so many made-in-China products. The Wall Street Journal quoted one woman who said, "Look at infant formula. How can you feel secure driving a Chinese brand car?" The death in 2008 of six babies and the sickening of 300,000 others from baby milk tainted with melamine has caused mothers to go to extremes to get smuggled foreign baby formula. The episode is often cited by wary consumers. And there have been lead-painted toys, sulfurous drywall, tainted heparin blood thinner linked to 81 deaths. There have been food scandals involving cooking oil, eggs, meat. There have been pigs dead of infectious disease but processed nonetheless. It is a nation concerned only for a quick buck with little concern for what might befall their customers.
Walmart's 408 stores in China have been subjected to a series of fines over the last three years for what are claimed to be misleading prices and poor quality products. Many of the fines are niggling harassments, such as for English lettering larger than Chinese characters on product labels. The company has obligingly instituted testing of 600 products a day at their distribution centers, even to the level of DNA analysis after finding fox meat labeled as donkey (the latter evidently an accepted protein). That's because in China it is the retailers who are responsible for the safety and quality of food they did not produce. But Walmart in particular is the target; 2,200-store rival Bright Foods says it hasn't been fined in years.
Now that western management, securities and accounting practices have been learned, the Big Four American auditing firms have been told they must hand over control to their Chinese partners. Their CEOs must be Chinese within three years, and foreign partners must be scaled down to less than 20% by end-2017.
UPS and Fed Ex have been in China since the 1980s, the market being second only to the U.S., but a law passed in 2009 required all delivery companies to be re-licensed in the regions they serve. Both companies have been waiting for their licenses for many regions ever since; Fed Ex still cannot operate in Beijing. The holdback has enabled Chinese counterpart S.F.Express to more than double in the past two years.
past as prelude
These new tactics were preceded by a long list of disputes. The U.S. had led the way in developing wind turbines and solar panels until China moved swiftly to take over these markets by heavily subsidizing the industries at home. Rapidly overwhelmed, U.S. producers shuttered one after another American plant causing the Obama administration, too little and too late, to file actions with the WTO in 2012 accusing China of dumping product for less than the cost to manufacture and ship.
That same year the U.S., the European Union and Japan had already brought a case against China for hoarding "rare earth" minerals, exotic commodities — 17 in all, essential for everything from iPads to Toyota Priuses, from efficient lighting to smart bombs –95% of which come from China.
outcomes
But the future will tell us that technology transfer did the most damage.
The chieftains of our major corporations would rather not look ahead to what the give-ups will do to their companies in the years to come. So we have General Electric as example signing in 2011 an agreement to share its most sophisticated airplane electronics with a state-owned Chinese company. The avionics it will share extend even to the ultra-high-tech computer system that went into Boeing's cutting edge 787 Dreamliner, governing the plane's navigation, communications, cockpit displays and controls.
GE is not alone. "Several other American companies have also been chosen" to help China build an advanced civilian aircraft, the C919, as The New York Times reported. They will provide:
power generators, fuel tanks, hydraulic controls, brakes, tires and other gear. The roster of United States suppliers includes Rockwell Collins, Honeywell, Hamilton Sundstrand, Parker Aerospace, Eaton Corporation and Kidde Aerospace. The Chinese government…had made it clear to Western companies that they should be "willing to share technology and know-how."
In 2010, China put forth what masqueraded as an anti-monopoly law that requires companies that hope to sell security-related digital products to government agencies — such as routers, smart cards and firewall software — to henceforward turn over data-encryption keys, encryption algorithms, and design specifications.
One has to ask, how much of the transferred technology will migrate to China's military. But is anyone in our government asking? Technology transfer still goes on.
looking back
Once bound to follow WTO rules, our hands were tied from using trade barriers as a weapon to counter China's mounting military aggressiveness. We cannot use economic pressures such as the successive waves of sanctions deployed against Russia (which hasn't qualified for WTO membership). Short of ignoring the treaty's rules and probably doing great damage to the structure of international trade and to trust in the United States, we would have to invoke the "national security" exception of the WTO rules. The U.S. would then be subject to a ruling by the organization's panel of international bureaucrats. This is just the sort of straitjacket that causes Republicans to block entry into any treaty that might hamstring America's freedom of action, although that phobia extends even, incredibly, to the Convention on the Rights of Persons with Disabilities, the treaty joined by 130 countries but not the U.S., even though it is inspired by and based on and our own pioneering Americans with Disabilities Act!
Before admitting China in 2001, no country of any consequence had been admitted to the WTO which had shown hostile intentions toward the U.S. Piracy and counterfeiting of our intellectual and cultural property had been rampant; years of promises were only to hold us at bay while the thievery went on. We approved their WTO membership before they reduced their formidable trade barriers that had held sales of our goods to China to just 2% of our total exports. But the smell of money made us only too eager to sell out.

Please subscribe if you haven't, or post a comment below about this article, or click here to go to our front page.