Flashpoint in the South China Sea
May 18 2016


A U.S. guided missile destroyer sailed last week within 12 miles of an artificial island constructed by China to symbolically insist that navigation of the seas will remain free, that the international convention's 12-mile exclusion can only be declared by a sovereign owner of territory,
and that disputed Fiery Cross Reef does not belong to China.
Yet now China is moving still further from its takeover of certain of the Spratly and Paracel Island chains to Scarborough Shoal, clearly far from China and on the edge of the Philippines (click map to expand).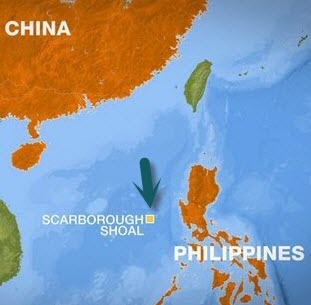 Simultaneously, China says it will build floating nuclear power plants to provide power to the bases it has been building in the South China Sea.
The U.S. is preoccupied by the messes we helped create in the Middle East and Central Asia, but it should be clear that the future clash is with China and that future is already upon is, as we forewarned in last year's series Don't Believe China Is Looking for a Fight?, China's Military Buildup: It's Aimed at Us, War With China: Is It Already Here?, and China's Master Plan: Drive Us Out of 'Their' Pacific. We are eyeball to eyeball waiting to see who blinks.

Please subscribe if you haven't, or post a comment below about this article, or click here to go to our front page.