governing
It Doesn't Take Absolute Power to Corrupt Absolutely
Tom Price and others living big on our dime
Oct 5 2017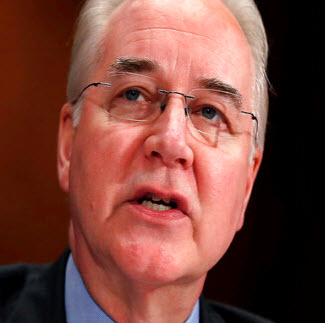 Tom Price: Out
How does the average citizen grasp the workings of the mind of Tom Price, the disgraced and now former Secretary of Health and Human Services? How many transformations would we have to undergo in order to reach a state of mind so corrupted with self-importance as to think oneself deserving of private jets and military transports just to ferry oneself about to this or that meeting at exorbitant cost to the nation?
One doesn't charter a private jet unconsciously. Nor decide that military personnel and aircraft should be commandeered instead of booking a commercial flight. It takes a belief that one has gone beyond the rest of us and is entitled to our payment of tribute — in this case, our taxes. In contrast, Kathleen Sebelius and Sylvia Matthews Burwell, the two secretaries of HHS under Barack Obama, flew commercially while in the continental United States during their combined eight years.
Yet in the brief span of seven and a half months, Price ran up a tab that might be as high as $1 million, accordingly to reporting from Politico, whose investigative reporter, Rachana Pradhan, broke the story by a stakeout watching Price come and go on private aircraft at Dulles. Price has offered to repay "his share" which he seems to think is only only $52,000. Spokespersons say he has, but no proof has been forthcoming.
Politico's first story said that in the single week before their September 20th salvo, Price took private jets for five flights. HHS press people told the White House that this would be a one-day media story, said Politico's Dan Diamond. "They didn't realize how much we had". When the further revelations poured forth about Price, the White House said they felt ambushed. That in effect admitted they knew nothing of what would quickly be exposed about the spending abuses of first Price and then several others. It said the Trump White House exerts no control over its own cabinet and its conduct, even though use of military transport can only be authorized by the White House.
Another secretary being questioned is Treasury Secretary Steven Mnuchin for taking a government plane with his wife to Fort Knox, Kentucky, for a meeting that just happened to be in the path of the solar eclipse in August. A department statement said, of course, this hundred year event did not factor into the travel plan.
Worth an estimated $300 million, Mnuchin had earlier nevertheless requested a military jet for himself and wife Louise Linton's honeymoon this summer for their honeymoon. They had a "concern for maintaining a secure method of communication," according to ABC News. That one was at least denied. A spokesman said a U.S. Air Force jet typically costs around $25,000 an hour to operate which, for a trip to France, Italy, and Scotland, would have run up quite a tab.
Newly under scrutiny is Scott Pruitt, who heads the Environmental Protection Agency. Pruitt's behavior in general is odd. Doors to his floor at EPA headquarters are frequently locked, reported the New York Times, and employees need an escort to gain access. He is accompanied by armed guards, presumably out of paranoia given his mission to dismantle the agency once he has reversed its policies. Those meeting with Pruitt are told to leave cellphones behind and are not permitted to take notes. The Times' August article said he often goes to other rooms to make phone calls, and a more recent report says he has remedied that by having the EPA spend $25,000 of our money on a soundproof communications booth in his office. Peculiar enough, but in addition, Pruitt wanted custom modifications to prevent any data leaks or eavesdropping. That tripled the cost.
The EPA's inspector general has begun a probe into Pruitt's frequent travel to his home state of Oklahoma. Pruitt is not a Congress member, needful of connecting to the constituency he or she represents. He is a cabinet secretary running an agency of thousands of employees in Washington D.C. What's with Oklahoma? And who is paying? As that state's attorney general, Pruitt was in thick with the oil and gas industry, suing the agency he now runs 14 times to force regulatory changes in its favor (see full treatment in "Is Global Warming Causing Extreme Weather? Not in Trump World"). Might the IG discover that they are paying for these flights?
Interior Secretary Ryan Zinke has been found to have used charter flights as well, one of them to his home town in Montana. More later.
Veterans Affairs chief David Shulkin is being looked at to see who paid for what during a 10-day European swing with his wife this July.
The Politico exposé has spurred the House Oversight and Government Reform committee to request travel records from the White House and 24 federal departments and agencies.
chutzpah
The most notorious of Price's five trips that week was from D.C. to Philadelphia, just 135 miles away. Spokespersons from agencies recite vapid evasions such as this one, covering for Price:
"As part of the HHS mission to enhance and protect the health and well-being of the American people, Secretary Price travels on occasion outside Washington to meet face to face with the American people to hear their thoughts and concerns firsthand. When commercial aircraft cannot reasonably accommodate travel requirements, charter aircraft can be used for official travel."
That last sentence is the standard line, delivered by others being looked at as well. The expectation is that no one will check. Politico noted that,
Price's charter left Dulles at 8:27 a.m., and a United Airlines flight departed for Philadelphia at 8:22 a.m.
D.C. to Philly is a trip better covered city-center to city-center by train or car at nominal cost. Instead, Price sent us a bill for about $25,000, according to Ultimate Jet Charters.
A week into its story, Politico detonated the 500-pound bomb that Price had ordered up military aircraft and crews for flights that likely cost $500,000 — flights to Geneva, Berlin, Beijing, Tokyo and elsewhere, his wife often aboard. A White House official confirmed that President Trump's staff approved the flights. When Trump chastises Price's extravagance, it is at his White House's own mismanagement.
Price, a surgeon who had switched to politics and become the Budget Committee chairman in the House, made his name as an ardent opponent of government spending and waste. Extraordinarily, considering the agency he heads, be endorsed the Trump budget's cut of $6 billion from the National Institutes of Health in March, and an 18% cut to HHS itself.
Alarms did go off during his confirmation hearing when he was questioned with some intensity about stock trades in healthcare companies while serving on a House panel that oversaw Obamacare and other health matters. Price yielded not at all to questions about timing and implications of insider trading, and even evinced an attitude of entitlement, of offense that he should be questioned on his private investing.
Price had disappointed Trump on other counts. He was named HHS secretary on the strength of his having developed a complete Obamacare replacement plan, but once in that office he did little to push for passage of the two bills put forth by the House. He pretty much vanished from view at the time, off instead on a three-nation trip in May to Africa and Europe.
On overseas trips he helped himself to military aircrafts and crews, reported Politico as more of what they had found tumbled forth in the days after their first story. They found overseas military flights that had probably cost about $400,000. A senior Treasury official told ABC News that use of military planes was usually reserved for cabinet members whose jobs deal directly with national security.
The web publication recorded the Price had taken at least 26 flights on private charter planes at taxpayers' expense since early May. Price seemed obtuse to why he faced criticism for outlandish spending, calling it politically motivated. "There are folks who want to see this president fail…who want to see this administration fail…but that's not dissuading us at all."
the others
Zinke and his wife took military planes to Norway, the need for which not even the Interior Department website troubles to explain. He chartered two planes out and back between St. Croix to St. Thomas in the U.S. Virgin Islands to attend the centennial of the Danish government turning the islands over to the United States, claiming that nothing else was available.
The bigger fuss was not persuasive. A charter from Las Vegas to the northwest tip of Montana was labeled by the media as a trip to Zinke's hometown; they jumped on his having spent the night at his home in Whitefish. But he was there to speak at the Western Governors' Association's annual meeting in Kalispell the next morning. The flight left Vegas at 8:30 p.m. PST and landed in Kalispell around 1:30 a.m., which sounds like alternatives were indeed not available.
Another clamor that may be overboard is Shulkin's 10-day European trip. He was there for meetings with Danish and British officials about veterans' health issues, and if he took advantage to tack on vacation days, paying his and his wife's way, what's the harm, as long as the touring wasn't the real reason for the trip.
Burwell, who served as HHS secretary for the final 2½ years of the Obama administration, used a military jet for travel to Havana, Cuba, according to former HHS aides. She took her husband. Two former aides said she had reimbursed the government for his cost. Did Burwell use military planes on other trips overseas? No response to requests for comment. Two former aides said her husband accompanied her on the trip to Cuba and reimbursed the government for the costs of the trip. But HHS' current spokeswoman undercut that by stating, "It's our understanding that previous secretaries have never reimbursed for spousal travel". But she cast doubt on her veracity telling a reporter that Tom Price reimbursed the agency for the cost of his wife's trip abroad, but would not say when he did so.
the most entitled
The worst offender? Donald Trump. The president and his family are ringing up travel costs at a pace that far outstrips previous presidents. One of Trumps' most important campaign imagery was his pledge to "drain the swamp" of cronyism and corruption, but his administration is rife with it, starting at the top with Trump's own multiple conflicts, at the very minimum the Mar a Lago initiations doubled to $200,000, the memberships at his golf clubs, and the money pouring into the Trump International Hotel in D.C. — all honey pots for those looking to curry favor with the president. Add to that his choice of several Goldman Sachs alumni as advisers and the richest cabinet in history by far.
And, of course, there are Trump's own luxurious travel habits at taxpayer expense, his weekends to Mar a Lago and the Bedminster club in New Jersey. Trump is on track to spend more money on travel in 2017 than Obama spent in eight years combined. (And yet Fox News was as late as July this year still nattering about Obama's travel costs). Trump had called Obama an "habitual vacationer" in a 2011 tweet.
The website Trump Golf Count has spotted the president on the links 36 times by the end of September, and he has visited the courses his company owns 60 times since inauguration. The Secret Service is running out of money and is losing agents fed up with the heavy overtime demands of covering a president who won't stay put.
A government report in 2013 tallied the cost of an Obama golf outing at $3.6 million. Salon makes the point that if that cost is applied to Trump, he has cost taxpayers $180 million.
On the Friday afternoon of Price's dismissal, the president expressed his displeasure saying, "I'm not happy, okay? I can tell you, I'm not happy" as he stepped away for yet another costly flight to a weekend away from Washington.

Please subscribe if you haven't, or post a comment below about this article, or click here to go to our front page.