election redux
Another Reason Hillary Lost: Trump Had a Secret Weapon
Oct 16 2017


The weapon was and is a 41-year-old bearded Kansan who towers over 6'2" Donald Trump named Brad Parscale. When interviewed by Lesley Stahl on CBS's "60 Minutes" in early October,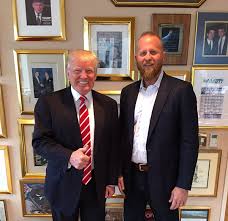 Parscale with the President
some of the techniques he divulged about his work as digital director of the Trump campaign had the
seasoned Ms Stahl reacting with "Whoa, wait a minute!" and "You're kidding".
Working out of his house in San Antonio, he says he was eating a ham and cheese omelet at IHOP in 2010 when he got an e-mail entirely out of the blue — Could he please call the Trump organization. Jared Kushner needed a website for the real estate business. Work continued for the family. Then in 2015 he was told, "Donald Trump is thinking of running for president. We need a website in 2 days". He was low bidder at $1500 and won. By the end of the campaign he had a hundred employees, was running data collection, advertising, and digital fund raising and $94 million passed through his company, much of paying for ads, says Stahl.
and his weapon?
"I understood early that Facebook was how Donald Trump was going to win". Barack Obama used Facebook in 2012 but its stepped up technology had since become more precise in differentiating people by their natures and preferences. "Facebook now lets you go to places possibly that you'd never go with TV ads, Parscale said. "Now I can find 15 people in the Florida Panhandle that I would never buy a TV commercial for." To learn how to find those individuals, Facebook staff "were embedded inside our offices" at Trump headquarters. That was the revelation that brought "Whoa, wait a minute!" from Stahl.
"They were embedded in your campaign?"

"Google employees and Twitter employees. They were there multiple days a week three-four days a week, two days a week, five days…".

"What were they doing inside…?"

"Helping teach us how to use their platform. I asked each one of them by e-mail, I want to know every single secret, button, click, technology you have. I want to know everything you would tell Hillary's campaign plus some, and I want your people here to teach me how to use it".
Lesley asked how did Parscale know they weren't Trojan horses?
"Cause I'd ask them to be Republicans and I would talk to them".

"You only wanted Republicans".

"I wanted people who supported Donald Trump from their companies".

"And that's what you got?"

"Yeah. They already have divisions set up that way. They already have groups in their political divisions that are Republicans and Democrats".

"You're kidding".
Apparently not.
and Hillary?
Lesley then asked whether there were social media company embeds in Hillary Clinton's campaign.
"I heard they didn't accept any of their offers".

"They offered an embed and they said 'no'"?

"That's what I've heard".
People in the Clinton campaign confirmed to "60 Minutes" that the offer was made and turned down.
microtargeting
Parscale's operation accordingly sent out to Facebook users hundreds of thousands of individualized ads, the differences generated programmatically and tailored to individual likes and dislikes. "Average day, 50 60 thousand ads". Parscale's words tumble forth rapid-fire, often interrupting each other. "Changing language, words, colors. Changing things because certain people like a green button better than a blue button".
Stahl was rather incredulous at that one.
"So let's say I like a green button. How do you know I like a green button".

"Because I gave you red, blue buttons and you never click on 'em. What it is is what can make people react? What catches their attention. Remember, there's so much noise on your phone. Or on your desktop. What is it that makes it go 'pfff", I'm goin' stop and look?"
In the wake of the loss to Obama, the Republican National Committee had developed a giant database to identify the issues voters care about. One reason Parscale thinks Trump won was an issue the database exposed but the Clinton campaign missed: infrastructure.
"It was voters in the rust belt that cared about their roads being rebuilt, their highways, their bridges. They felt like the world was crumbling, so I started making ads that would show the bridge crumbling".
He showed three ads — one on tax simplification, the second on making childcare costs tax deductible, the third that expanded energy production would create half a million jobs — and made the point that targeting has become so granular that three next door neighbors could each have gotten a different one of the three.
The ads carried a donate button, evidently in the color the person liked best. In addition to votes, his ads pulled in $240 million in small amount donations.
Parscale is now working on Trump's 2020 campaign.

Please subscribe if you haven't, or post a comment below about this article, or click here to go to our front page.