foreign policy
The Russians in Afghanistan: Trump's Strange History Rewrite
Jan 14 2019


In its reporting of the year's first cabinet meeting, The New York Times made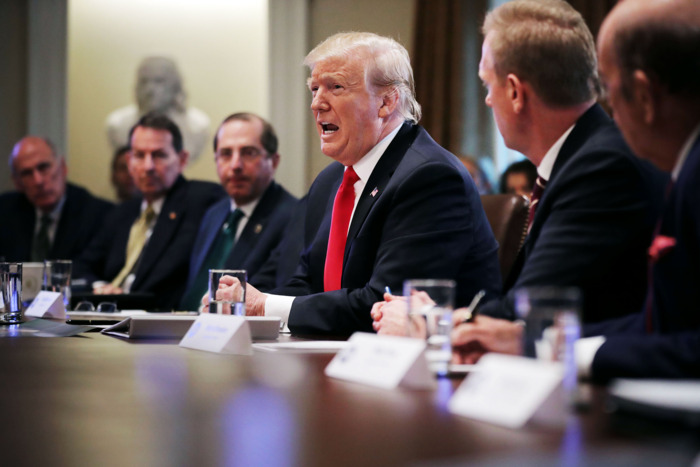 The cabinet meets at the White House, January 2nd.
no mention of it. Neither did The Wall Street Journal in its short write-up of the January 2nd meeting. It did run a short mid-page editorial, though, titled "Trump's Cracked Afghan History". What caused this from the normally friendly to Trump Journal? These remarks by the president:
"The reason Russia was in Afghanistan was because terrorists were going into Russia. They [the Soviets] were right to be there. The problem was, it was a tough fight, and literally they went bankrupt, they went into being called Russia again as opposed to the Soviet Union. You know, a lot of these places you're reading about now are no longer a part of Russia because of Afghanistan.
The Journal editorial called "Mr. Trump's utterly false narrative…reprehensible" for good reason. In 1979 three divisions of Russia's 40th Army entered Beyond collusion? : January 12: The New York Times today reports that after President Trump fired FBI Director James Comey and then said it was because of "this Russia thing", and because of so many Russia contacts by those associated with the campaign, the FBI began an investigation into whether Trump was actually working for the Russians. That story here.

Afghanistan to prop up a communist government because it was threatened by an insurgency. The invasion had nothing to do with terrorism and Russia certainly had no "right to be there". The Russians were acting on the Brezhnev Doctrine which dictated that any country that had gone communist would not be allowed to revert.
For Russia it was a disaster. By the time they pulled out 10 years later, about 15,000 Soviet soldiers had been killed, and about 35,000 wounded. For Afghanistan it was far worse. About two million civilians were killed and about four million Afghans were driven into exile in Iran and Pakistan. The United States supplied the mujahidin fighters with Stinger missiles that shot Russian attack helicopters from the skies, fighters whose thanks was to then ally with al Qaeda and Osama bin Laden.
Four-star Army general Barry McCaffrey called their fight "basically responding to communism as an atheistic affront to Islam" and called Trump's remarks, "a truly astonishing, ignorant statement by the president". The Journal agreed: "We cannot recall a more absurd misstatement of history by an American President".
But it seemed to be more than that. An op-ed piece in The Washington Post at the beginning of December by Russian historian Vladimir Kara-Murza reported that Russian President Vladimir Putin is engaged in a campaign to whitewash aspects of the Soviet past. Putin has said the collapse of the Soviet Union is the "greatest geopolitical catastrophe of the [20th] century" and part his program of rehabilitation is a resolution before the government that justifies the Soviet's war in Afghanistan, calling it "in full accordance with the norms of international law", and reversing the Russian view until now that it was a tragic mistake. The formal vote on the
The single occasion that NATO was called to action was to join the U.S. combating al Qaeda in Afghanistan after 9/11. They could have told us it was our problem. Yet in the cabinet meeting Trump mocked allies who fought alongside Americans.: "When a country sends us 200 soldiers to Iraq, or …to Syria or to Afghanistan, and then they tell me a hundred times, 'Oh, we sent you soldiers. We sent you soldiers'", he said. Someone should tell him that more than 450 from the United Kingdom lost their lives there.
new resolution is planned for before the 30th anniversary of the withdrawal of Soviet troops from Afghanistan on February 15th of 1989. It will now be the new "historical truth" replacing the December, 1989, "moral and political condemnation" of the invasion by the Congress of People's Deputies, a resolution that will be declared null and void.
Looked at in this context, Trump's remarks go beyond ignorance of history. He is siding with Putin and his regime's revision of history. How would Trump know of Putin's history makeover? How would he know that sanctification of the Afghanistan invasion is in the works? Is there unreported late night phone contact with Putin? Once again we hear extraordinary deference to the Russian leader whom he has so often praised, and once again the question arises of just what does Putin have on the American president for him to engage in such abject appeasement.
Former FBI assistant director for counterintelligence Frank Figliuzzi predicts that unit of the FBI will want to look into what is causing the president to side with Russia's attempt to rewrite history, saying that it is just the sort of suspicious allusion that attracts the counterintelligence unit's attention.
By signaling his agreement with the Putin doctrine and sanctioning the Soviet slaughter, how has Trump not stunned and outraged both the Afghanistan leadership and, for that matter, the Taliban, telling them that Russia was "right to be there". How has he not effectively foreclosed the likelihood of a diplomatic initiative to end the 17-year war.

Please subscribe if you haven't, or post a comment below about this article, or click here to go to our front page.