war plans
If Hostilities Break Out, Iran Controls the Geography
Jul 20 2019


The many provocations in recent weeks, capped by the downing of a costly drone, are sure to provoke a military response from the U.S. should Iran continue. We're full of bluster with Trump talking of "obliteration" and "end of Iran", but, having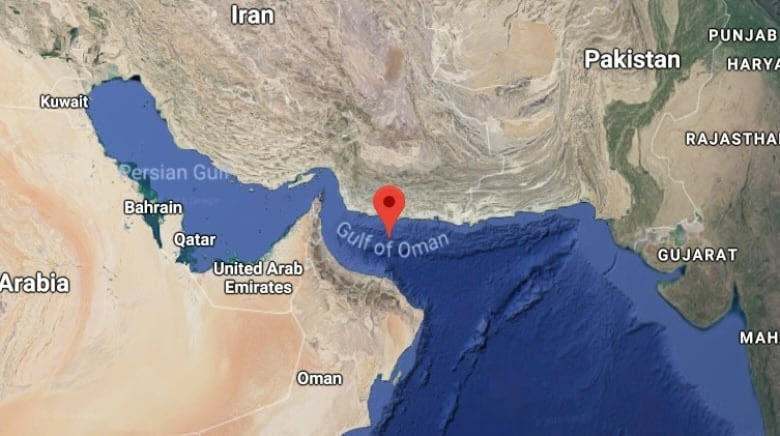 Where the drone was brought down in the Gulf of Oman with the Straits of Hormuz to its west.

pulled back after the drone's loss, there will be pressure to respond militarily if an incident causes any loss of American life.
Trump wants to avoid war, and Secretary of State Mike Pompeo wants to use threats of military force only to drive Iran to new negotiations, we're told. But then there's National Security Adviser John Bolton, the sort who never wore a
uniform but has no qualms about sending young Americans to risk their lives, war being his preferred diplomacy. And he wants to go all the way to regime change.
With the focus on a threat in Iraq, have any of them considered Iran's geography? There have been flare-ups before and we wrote about Iran's strategic advantage years ago. The geography hasn't changed, so we reprieve below excerpts from articles back then that should make this administration fearful:
From "Rattling the Sabers at Iran" — January 11, 2012
The geography of the planet has always been a determinant of power and a decisive influence over the outcome of war.
Iran sits at unique location on the Persian Gulf, not only bordering a body of water through which 20% of the world's oil passes daily, but at a spot where a spine of land thrusting north from the Emirates squeezes the waterway to form a strait — the strategic Strait of Hormuz, a waterway as little as 21 miles wide with Iran looming over its northern shore like an open hand poised to choke a passerby.
In retaliation, Iran has threatened to block the strait, has told the recently-departed carrier U.S.S. John C. Stennis and its battle escort not to return to the Gulf, and, in a show of intent, has just conducted 10 days of naval maneuvers near the strait with a vow to repeat those exercises soon.
There have been threats in the past to mine the strait or to sink ships to block its channels, and mention by the Chairman of the Joint Chiefs of our using "minesweepers" suggest we think that's all Iran has in mind — that, Iran's naval maneuvers notwithstanding, they would never confront the U.S. Navy.
There were reports in 2006, however, that Iran's Revolutionary Guard's Navy had prepared for a massive assault on U.S. naval forces and international shipping in the Persian Gulf to disrupt trade the last time the Hormuz choke point was in the headlines.
But the more serious threat is that ships have become vulnerable in the face of missile technology. The strait is reportedly targeted by Iran with anti-ship missiles. If an American carrier, with its crew of 5,000, were struck, it would mean all out war.
Not even missiles are needed. Four years ago five speedboats taunted three U.S. warships +entering the Gulf in a provocative action that almost drew our fire...More ominous still, a war game conducted by our Navy in 2002 showed that warships are disturbingly susceptible to waterborne guerrilla tactics. In that simulation a Navy convoy lost 16 major ships, including an aircraft carrier, in a matter of minutes to a "swarm" of such speedboats. It is not difficult to imagine that this startling result inspired that speedboat probe as a trial run to test our Navy's reaction.
From "Should We Risk War Number 4?" — May 1, 2011
The danger is that Iran will turn overtly hostile at our refusal to leave [Iraq], that it will view the diminished U.S. force as easy pickings for an army that is far more powerful than what we encountered in Iraq. The Iraqi army, after years of training by the U.S., is no match for Iran's.
If Iran attacked and we found ourselves at war with them, the situation could quickly spin out of control. Our ships would need immediately to go on station to keep open the Strait of Hormuz, a choke point only 21 miles wide controlled by Iran through which 20% of the world's oil passes. Iran has often threatened to mine the strait. Ships are highly vulnerable to land-based missiles, and Iran has conducted exercises with fleets of speedboats. Speedboats may seem to be no match for powerful naval ships until one remembers that an even lesser suicide craft blew a hole in the destroyer USS Cole, when it was docked in Yemen in October, 2000, killing 17 sailors.

Please subscribe if you haven't, or post a comment below about this article, or click here to go to our front page.