investigations
Barr and Senators Plot to Invert the Mueller Report
Part One of Two
Aug 6 2020


Just before the election, timed for greatest effect, Attorney General Barr will release his special investigator's report in his quest, in the service of President Trump, to invalidate the entire Mueller report. He has often made clear that objective. He has said that "the F.B.I. launched an intrusive investigation of a U.S. presidential campaign on the thinnest of suspicions" and that the Mueller probe that ensued was "one of the greatest travesties of American history."
Barr had tapped Connecticut's U.S. Attorney John Durham to scour the world to find proof of his theories. As he did with the
Mueller findings, Barr is characterizing Durham's investigation before the public learns of it, saying he is "troubled" by what Durham has found. Barr would in fact be troubled only were Durham to find nothing.
There is traditionally a 90-day quiet period before an election during which any new discoveries are put on ice out of concern they could be unfairly disruptive.
Near the end of July, Barr finally appeared before the House Judiciary Committee where Rep. Debbie Mucarsel-Powell (D-Fla.) asked him if he would "commit to not releasing any report by Mr. Durham before the November election?" Barr answered, "No". Just as former FBI Director James Comey may have irretrievably damaged Hillary Clinton's presidential hopes by reopening the FBI's email inquiry days before the 2016 election, so is Barr likely to flout the three-month protocol with an "October surprise" in the hopes of dimming Joe Biden's prospects. He had just said in his opening remarks to the committee that he joined the Trump administration because "I became deeply troubled by what I perceived as the increasing use of the criminal justice process as a political weapon".
President Trump's modus operandi goes little further than revenge. He considered the Russia investigation a criminal plot engineered by former President Barack Obama. Accordingly, we are supposed to be grateful that Barr doesn't expect any charges will be filed against Obama or Biden in consequence of Durham's findings.
open wide
But whereas Mueller's mandate was narrowly defined, restricted to searching for possible "coordination" between the Russian government and the Trump campaign, the Durham probe has no boundaries. Trump gave Barr freedom to issue subpoenas and to demand and expose classified CIA and FBI documents. He can therefore make the claim that Durham's report will be more authoritative for having broader access. In addition to coming up with allegations that the FBI and Mueller probes were founded on false premises, it is a certainty that Durham or his aides have been upending Ukraine in the hopes of finding corruption by Biden's son when working for Burisma, the Ukrainian gas company, and by Biden himself, because he had attempted to sideline a prosecutor general who had investigated Burisma. Never mind that had taken place before Biden arrived. His mission was to press for corruption clean up so that infamously corrupt Ukraine could win international economic support.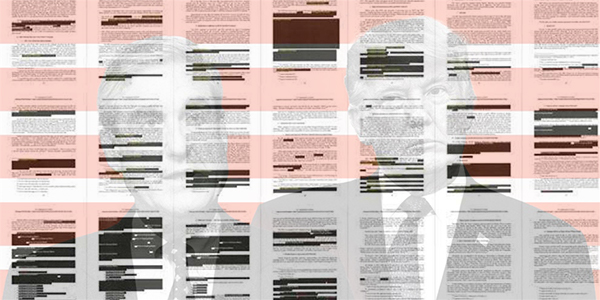 Barr's probe is not the only one hoping to obliterate Mueller's 448-page opus. The Senate Judiciary Committee voted in June to give its chairman, Lindsey Graham (R-SC), the power to subpoena some 50 persons — Comey , former National Security Adviser Susan Rice, and former Director of National Intelligence James Clapper among them. Graham wants to exhume the beginnings of Crossfire Hurricane, the codename for the FBI's investigation into Russia's election interference and the Trump campaign. He has concluded in advance that the entire Russia investigation was "corrupt" and says, "It's important to find out what the hell happened." He intends "to look long and hard about how the Mueller investigation got off the rails".
Sen. Ron Johnson (R-Wisc) is diverting his Homeland Security and Governmental Affairs Committee from the coronavirus threat at home to find dirt on Joe Biden in Ukraine. Media reports have it that pro-Russian Ukrainians have passed materials to Johnson's committee. Johnson, the Trump campaign, the White House, and the State Department "have all declined to comment on whether that is true", says the Biden campaign, "meaning that each are refusing to tell the American people whether they are party to a foreign influence operation against the United States", which is illegal.
Fortunately, there is the Senate Intelligence Committee which has honorably been conducting its bipartisan investigation, with four reports so far and a fifth on the Trump campaign's Russian contacts eagerly awaited.
Barr called the FBI probe into possible Trump campaign connections to Russia a "travesty". The FBI operated in "bad faith", the nation "turned on its head for three years based on a completely bogus narrative that was largely hyped and fanned by a completely irresponsible press". In his statement before the House Judiciary Committee he called it "the bogus 'Russiagate' scandal" (curiously, he skipped that phrase when he read his statement aloud).
He and Graham agree that the Mueller investigation was illegitimate in conception and for Barr, "a grave injustice" that was "unprecedented in American history." President Trump calls it the "Greatest Political Crime in the History of the U.S., the Russian Witch-Hunt", usually tweeted as "WITCH HUNT!". The President has tweeted about Mueller more than three hundred times, slandering the special counsel's investigation as a "scam" and a "hoax."
fake news from the right
Right-leaning media have fallen in line, employing slander to bring their readers along. Holman Jenkins at The Wall Street Journal calls it "the Russia follies" and "the implosion of [Adam Schiff's] Russia collusion theory". Fellow columnist at the Journal, Kim Strassel, who writes about nothing else, portrays the "collusion narrative as a political dirty trick aided by a rogue FBI" instigated by Democrats and the "rogue bureaucrats of the Deep State" at the intelligence agencies. The Washington Examiner says, "No need to build to a crescendo — let's just say it: The Trump-Russia investigation was a politically driven fraud from beginning to end". Another writer there says it's "the costly and ultimately pointless Russia collusion hoax, which alleged that the Kremlin installed the president of the United States in the White House". At RealClear Policy it's "the same Democratic conspiracy theories based on a fever dream that its bête noire, Donald Trump, was an agent of the Kremlin". The always furious Jim Jordan (R-Oh) summarized the Mueller report at the Barr hearing with, "We get two years, 19 lawyers, 48 witnesses, 2,800 subpoenas and a $30 million cost to the taxpayers and they come back with nothing!".
Nada, nulla, niente
"Nothing" is what Republicans want you to remember. Constrained by a Justice Department memo from the office of legal counsel that he could not bring indictments against the president, Mueller made clear, albeit in nuanced language that the Messrs. Barr and Trump chose not to understand, that:
"[I]f we had confidence after a thorough investigation of the facts that the President clearly did not commit obstruction of justice, we would so state. Based on the facts and the applicable legal standards, we are unable to reach that judgment. Accordingly, while this report does not conclude that the President committed a crime, it also does not exonerate him."
The campaign to erase the Mueller findings knows it can count on American's chronic amnesia. "There was no basis for them to start the investigation in the first place", said Jordan at Barr's hearing. He echoes Barr, who has questioned why it began. By such total nullification they are saying that the FBI should never have looked into Russian election interference or the hacking of the Democratic National Committee servers. They should have just shrugged it off. Mueller should have ignored finding out who was behind Russia's "Active Measures" social media campaign and GRU's hacking operations. Because Mueller could not quite build a criminal case, we should ignore that the Trump campaign was teeming with Russian contacts and (please note, Sen. Graham) the nation was wondering "What the hell is happening?".

Why didn't campaign adviser George Papadopoulos report to the FBI that the Russians had a huge file of Hillary Clinton's email, instead trying to broker a meeting between the Russians and the campaign to acquire the trove. Why did the FBI learn of this only through Papadopoulos spilling this to an Australian diplomat in London (over perhaps too many drinks)?

How to explain Trump's hiring to run his campaign Paul Manafort, who had extensive dealings with Ukraine's pro-Russian president who ultimately had to flee to Russia, was compromised by owing a reported $10 million to Russian oligarch Oleg Deripaska whom Manafort agreed to brief about the campaign, and was meeting regularly with another Russian thought to be connected to Russian intelligence, Konstantin Kilimnik, to hand over campaign polling data?

Why did Jared Kushner and Eric Prince, founder of the notorious mercenaries-for-hire firm Blackwater (sister Betsy would become Trump's education secretary), meet with the head of Russia's sovereign fund, and travel all the way to the Seychelles Islands in the Indian Ocean to do so, a meet-up that remains one of the more heavily redacted sections of Mueller's report.

What to make of Trump first considering as his running mate (and ultimately appointing as his national security adviser) a man who was paid $45,000 to join Russian President Vladimir Putin at a December 2015 dinner for the Kremlin's media arm, RT, had been paid over $500,000 by a company owned by a Turkish-American businessman close to top Turkish officials without registering as a foreign agent, and in a tweet was even promoting Hillary Clinton conspiracy theories.

How about Jared Kushner discussing with Russia's ambassador use of Russian embassy facilities to set up a "back channel" for communication between Trump's transition team and the Kremlin to keep pre-inauguration conversations secret?

How did Roger Stone know in advance there would be a Wikileak dump of DNC e-mails? Why, on a drive to New York's LaGuardia Airport, was candidate Trump, after taking a phone call, able to tell Manafort sidekick Rick Gates that more releases of damaging material would be coming? Trump's fixer Michael Cohen overheard a Trump phone call saying the same. No collusion. Trump denied knowing of this, recently proven to be a lie to Mueller.

Then there was Donald Jr., convening a meeting with a Russian lawyer who said she had dirt on Hillary Clinton. That turned out to be a come on, but that Trump's son e-mailed "If it's what you say, I love it" looked to be a certainty he would have "colluded" by accepting assistance from a foreign power had she in hand what she led him to believe.

Why was Carter Page, whom the FBI thought might be a Russian agent after an attempt by two Russian spies to recruit him in New York in 2013, an aide in Trump's campaign? Why bring in someone who boasted that year of the "privilege to serve as an informal advisor to the staff of the Kremlin" in a letter to a book publisher? (That drew a FISA warrant in 2014.) In the midst of the Trump campaign in 2016, why had Page gone to Moscow where he met with unusually highly-placed contacts and gave a speech criticizing U.S. sanctions policy toward Russia?
That's a partial list. The Republican Party line is that, if nothing quite rose to the level of legally prosecutable "collusion", all this is nothing and should not have been investigated. And all the while Donald Trump, a candidate for the presidency, praising Vladimir Putin as a real leader, unlike Barack Obama. And if no one was doing anything that might be wrong, why did they all lie, which is why several drew their prison sentences?
We made the mistake of reading the entire Mueller report, all 448 pages, footnotes and all. It is 180 degrees from nothing.
Part 2 Next Time

Please subscribe if you haven't, or post a comment below about this article, or click here to go to our front page.