Americans
Popular Delusions and the Madness of Trump
Jan 22 2021


77% of Republicans believe there was widespread fraud in the presidential election says a Quinnipiac poll. A Reuters poll says about half of all Republicans believe President Donald Trump "rightfully won" the election but that it was stolen from him by widespread voter fraud. Those percentages applied to the over 73 million who voted for Trump say that plus or minus 50 million Americans think — and will go on thinking — that Joe Biden is an illegitimate president. How did this happen?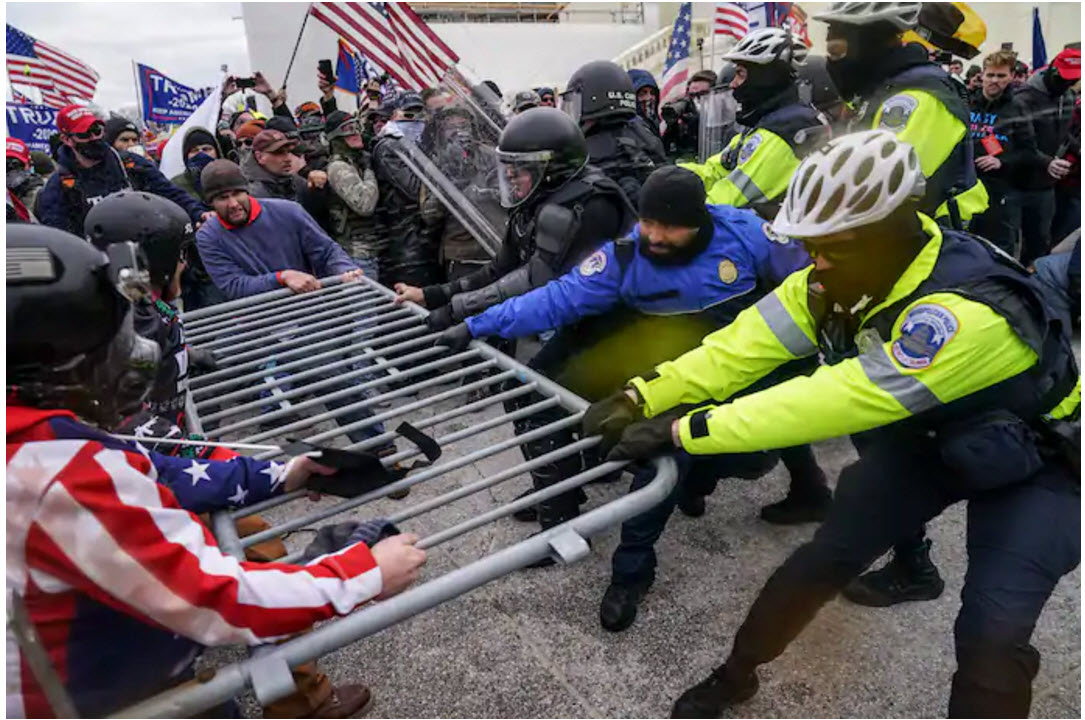 Christopher Krebs, Trump's own appointee to run the unit of the Department of Homeland Security that oversees elections, had worked with election officials in all 50 states. He concluded that the 2020 election "was the most secure in American history" with no "evidence that any voting system deleted or lost votes, changed votes or was in any way compromised". Trump fired him for saying that.
The New York Times canvassed election officials in all 50 states. They reported the election went smoothly beyond expectations. In interviews and statements the officials said the process had been a remarkable success despite record turnout and the complications of the pandemic. None could name any instances of fraud or irregularities that would have affected the outcome of the race.
And yet tens of millions of Americans think the election was somehow stolen. Again, how did this happen?
The answer is Donald Trump and only Donald Trump. Every claim of fraud, of a rigged election, of hundreds of thousands of phony ballots infiltrating the system, of millions of ballots "deleted" nationwide, of dead people voting, of counterfeit signatures, of machines programmed to switch votes — all of this, every bit — was fiction conjured by Donald Trump. It came from no one else and nowhere else. Others would join in the cry, seeing advantage for themselves — Rudy Giuliani scurrying about the country hoping to find wrongdoing, lawyer Sidney Powell inventing loony scenarios with no proof, Bill Barr turning his prosecutors loose to see what they could come up with — but only Trump himself originated the scheme that "the only way we can lose…is if cheating goes on". The rest followed.
And that is the frightening phenomenon we have witnessed across this past year, that those tens of millions of Americans simply accepted as truth all the claims of a "rigged" election because their idol had said it. The rest of us watched in disbelief to see how some 50 million Americans could be led to throw away America's democracy in favor of a demagogue who admired the world's dictators and hoped to become one. We never thought it could happen here, this nation of supposedly stout individualists who resist even wearing masks in a pandemic. Yet they have so easily given themselves over to a cult of one man, flocking in thousands to his rallies, chanting on cue, laughing at his feeble attempts at humor, and now assaulting the nation's Capitol. So easily led to believe that an election in which some 153 million votes were cast could somehow have been "stolen". Why? Because Donald Trump told them it was so.
planting the seeds
Just as he did in 2016 when he expected he would lose and said the election was "rigged", Trump began laying the same groundwork early last year when various states, in the midst of the pandemic, were considering expanding mail-in ballots to relieve voters from standing in lines and clustering in polling places. He had already, across more than four years as he attracted his base, turned his followers away from getting their information from
Our title is drawn from the 1841 classic "Extraordinary Popular Delusions and the Madness of Crowds". It takes us through many tales where a citizenry was swept up in crazes that cast aside truth in favor of mass belief in the imaginary, such as "tulip mania", where in the 1630s the price of a single tulip bulb reached 10,000 guiders, enough to buy a house on an Amsterdam canal. And, of course, the book chronicled the Salem witch mania. What an irony that Trump calls everything opposed to him a witch hunt.
major media sources. They are "the enemy of the people" who dispense only "fake news", he said over and over. As if he had studied how to become a demagogue, he knew outrageous conduct would build ratings for cable television networks and talk radio, winning them and their listeners to accept his truth as the only truth.
The convenience of mailed ballots was anathema to Republicans who feared they would expand voting by low-income groups who find it costly or difficult to cast their votes in person. Those groups — Blacks, Hispanics, students — tend to vote Democratic. The claim that mail-in balloting was vulnerable to fraud gave Trump the ideal theme to delegitimize the 2020 election as "rigged" so he could claim he actually won should he lose.
By April, Trump was tweeting that, "you get thousands and thousands of people sitting in somebody's living room, signing ballots all over the place". Asked by reporters for evidence, he responded, "I think there's a lot of evidence, but we'll provide you with some, OK?". No evidence was forthcoming. Other tweets railed that "mail boxes will be robbed" and about "professionals telling all of these people…how to vote".
Attorney General William Barr was eager to help Trump in spreading this message so as to remain in power for four more years. In April he fortified Trump's imaginings with "foreign governments might conspire to mail in fake ballots", offering no evidence to substantiate that this was a possibility. "We've been talking about how…there are a number of foreign countries that could easily make counterfeit ballots, put names on them, send them in. And it'd be very hard to sort out what's happening".




In one week in June, Trump tweeted four times of foreign sabotage. "Ballots will be printed by foreign countries, and others. It will be the scandal of our times!".
The president worked all summer to implant in the minds of his followers that "Because of MAIL-IN BALLOTS, 2020 will be the most RIGGED Election in our nation's history", that voting machines were programmed to flip votes to Biden, that mail-in ballots were susceptible of fraud, that because of "the new and unprecedented massive amounts of unsolicited ballots" election results "may NEVER BE ACCURATELY DETERMINED".
On Fox News he said, supplying no particulars, "There are reports that, when people vote for Republicans, the entire ticket switches over to Democrats". As soon as the election is over, he said to reporters, "we're going in with our lawyers".
Into the fall he used Twitter and his rallies to hammer away at the legitimacy of an election contaminated by mail-in ballots — "There is NO WAY (ZERO!) that Mail-In Ballots will be anything less than substantially fraudulent" — notwithstanding that there have always been absentee ballots and that five states have been using only mailed ballots and no in-person voting for years, and without incident.
Back in July, Mr. Trump had begun insisting "Must know Election results on the night of the Election, not days, months, or even years later!", knowing that the counting of the mostly Democratic mailed-in ballots would in most states only begin on Election Day. Thus had Trump primed his base of voters to think he had won when he declared victory while in the lead on election night before mailed ballots were counted, just as his instant claim of "exonerated" displaced the facts of the Mueller report ahead of its release. He ultimately portrayed mail-in ballots as supposedly so rife with fraud that they should not be counted at all. There were now legal ballots — those cast in person. Trump now spoke of mailed-in ballots as illegal. Interviews in middle-America said that his people agreed.
POST ELECTION
"If you count the legal votes, I easily win", Mr. Trump said from the White House briefing room two days after the election. "If you count the illegal votes, they can try to steal the election from us, if you count the votes that came in late"




He declared the election a fraud, just as he said it would be, which his followers accepted as proof of how right Trump's predictions had been. He had been indoctrinating them with a steady cascade of misinformation for months so his claim that it was the "MOST CORRUPT ELECTION IN U.S. HISTORY was all the evidence they needed. His people were in his thrall.
SINGLE SOURCE
The lawsuits began, challenging mailed ballots and whatever else came to hand. The job for Trump's lawyers was to fulfill the prophecy that the election was awash with fraudulent ballots, to reinforce the conspiracy's truth of what Trump had been predicting would happen. Acting as Trump's personal lawyer, Giuliani appeared at the Republican National Committee headquarters to announce his discovery of a centralized plot "to execute voter fraud in big cities run by Democrats", but evidence "at this point, I really can't reveal". When Biden's totals grew relative to Trump's as mailed ballots were counted after Election Day, Trump tweeted, "STOP THE COUNT" and had the Trump campaign file suits in Pennsylvania, Michigan, and Arizona actually asking the courts to do so. As for fraud, lawyers did not cite fraud in court in over two-thirds of their cases, having no proof and not willing to risk their license by lying; cases would metamorphose into fraud only when lawyers emerged from the courtroom to talk to press and television reporters.



Right-wing media played down the court results while Trump followed the election with an endless barrage of tweets, many of them outlandish, claiming fraudulent ballots and manipulated election machines to keep his millions of voters persuaded that Democrats had stolen the election.
The final count looks to have been 60 lawsuits filed by Trump's army of lawyers, as many as eight in a single state, as they plied state courts, federal courts, and appeals to the Supreme Court that were brushed aside, some rejecting claims so trivial that there have been questions why the American Bar Association has not considered sanctions.
Every case but one failed. Complaints were turned away because lawyers brought no evidence, just claims, or were dismissed because affidavits of perceived irregularities had no effect on changing a state's result. Trump attorney's brought a case to federal court in Michigan of a vote cast by a single dead person (same name as someone else, it turned out) as if that should overturn Biden's plurality of 154,000 votes. After raising the specter of hordes of undocumented immigrants voting, not a single case was brought of an undocumented immigrant casting a ballot, or a citizen double voting.
Bill Barr's prosecutors evidently found nothing. Barr, at the beginning of December, said, "To date we have not seen fraud on a scale that could have affected a different outcome in the election" nor "anything to substantiate" assertions that voting machines had been tampered with. Chris Krebs said "there is no evidence" any voting systems were compromised.
This cut no ice with the Trump disciples. Any dissent meant they were part of the deep state conspiracy masquerading as allies. Or as a Times writer put it, Trump had "persuaded his base that the election system is rotten with fraud, and to view that fiction as a bedrock party principle."
In an election wherein the enormous number of over 150 million Americans votes, there are bound to be "irregularities", but Trump devotees lack the common sense to understand that scattered irregularities, dwarfed by those quantities, do not mean an entire election is invalid or stolen.
But with his lawyers unable to come up with evidence of fraud in 60 courtrooms by the time that Congress met to count the electoral votes, Trump would say to the crowd in D.C., "As you know the media has constantly asserted the outrageous lie that there was no evidence of widespread…". He dropped to a grave voice mocking the media, "'While there's no evidence of fraud'. Really?".
The Trump strategy seemed more intended to impress upon his base that no matter how hard they tried, there was a Democratic conspiracy to steal the election, notwithstanding conservative judges, some of them Trump appointees, having ruled against him.
Trump never ceased proclaiming he had won the election. Take away those hundreds of thousands of illegal votes, his idolaters believed, and Trump had won. The election had been stolen. "Stop the steal"


read their placards. "There's no way we lost Georgia. There's no way", Trump said at his rally in Dalton, Georgia. "You'll find at least a couple of hundred thousand of forged signatures", he somehow knew. "As you know, every single state, we won every state", he said to the Georgia secretary of state in the infamous phone call in which he said to Brad Raffensperger,
"So what are we going to do here, folks? I only need 11,000 votes. Fellas, I need 11,000 votes. Give me a break."
His appeal had at the beginning of his run been to the vast swath of Americans who felt left behind and threatened by waves of immigrants taking their jobs. But now, in the last days of his presidency, he aimed his message to the nation's most despicable elements, the white supremacists, white nationalists, and neo-Nazis he had encouraged to come to Washington. "Big protect in D.C. on January 6th. Be there, will be wild!". Convinced he was their savior, they came.
"We're going to walk down Pennsylvania Avenue and we're going to the Capitol to take back our country… We must stop the steal…Our country has been under siege for a long time…You are allowed to go by very different rules. You have to get your people to fight. And we fight. We fight like hell. We will never give up. We will never concede."
It was no less than an incitement of insurrection urging the mob to go forth



and bring down the U.S. government at is seat, the Capitol. And even now, first with futile proposals to invoke the 25th Amendment for Trump's removal, and now with Trump impeached a second time, Republicans still back a president who has attempted to overturn an election and, that having failed, attempt a coup d'état. Gerard Baker, former Wall Street Journal editor-in-chief and now regular op-ed contributor wrote that the defections of (before a few defected) 141 House Republicans and 13 Republican senators to back the challenge to Congress' electoral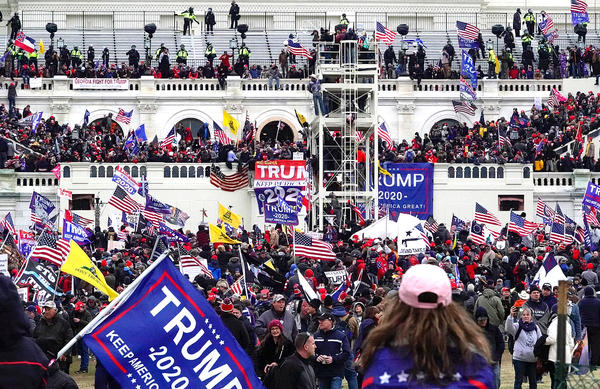 vote count "rank among the most cynically contrived , morally contemptible, soul-corrupting acts of political degeneracy ever attempted". After the insurrection triggered by Trump that was to overturn Biden's election and return Trump to power, even after that, an NBC poll reported that 87% of Republicans still approved of Trump.
Their apostasy from the traditions of their party tells us that Republicans no longer want a democracy. Their decades-long repression of voting and now their months-long support of Trump say that Republicans have come to prefer authoritarianism. They fear that democracy will hand control of the country to non-whites as the nation's demography changes and those hordes will replaces capitalism with socialism. Their actions say that, for them, America's 235 year experiment in rule by the people should come to an end.

Please subscribe if you haven't, or post a comment below about this article, or click here to go to our front page.