investigations
Yes, Collusion! Government Report Connects the Dots to Russian Intelligence
Apr 18 2021


When Robert Mueller turned in his investigative team's report to the Justice Department in March of 2019, Attorney General William Barr infamously undercut two years' work with his hurried four-page review so as to say that Mueller found no conspiracy "despite multiple offers from Russia-affiliated individuals to assist the Trump campaign". When, two weeks later, he released the report itself, Barr said, "the Special Counsel found no 'collusion' by any Americans" with Internet Research Agency, the Russian outfit that interfered with the 2016 election. President Trump was triumphant. "There was no collusion with Russia", he declared on the tarmac returning from Mar-a-Lago. "No collusion" and "Complete and total exoneration" became Trump's immediate mantra, repeated endlessly.
The Mueller report was, of course, nowhere near so simplistic. It found that "the Russian government perceived it would benefit from a Trump presidency and worked to secure that outcome, and that the Campaign expected it would benefit electorally from information stolen and released through Russian efforts".
We thoroughly digested the Mueller report, footnotes and all, and amidst all the inexplicable contacts with Russians, already reported by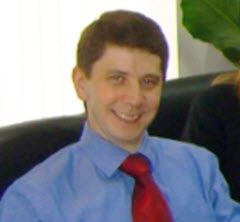 Wanted: Konstantin Kilimnik
a revitalized press, we identified one connection that certainly looked collusive. Just days after the report's release, we wrote:
"The collusion theory 'expired in an instant' with Barr's letter, said the lead editorial at the Wall Street Journal. One would think that everything and everyone suggestive of collusion had been made to disappear in a puff of smoke, as if everything turned up by the investigative media over the last two years was imaginary. That must mean…that Trump's campaign chairman, Paul Manafort, did not hand over polling data that Russia presumably used to interfere with our elections to Konstantin Kilimnic [sic] … thought to have ties to Russian intelligence."
That says we, and many others, saw collusion at the outset. A presidential campaign's close-in polling data in battleground states would indicate in which towns and counties there is weakness. With the Russians showing a preference for Trump over Hillary Clinton, and using American social media to influence voters, such granular data would tell the Russians just where to aim their disinformation.
Presidential candidate Donald Trump had chosen Paul Manafort to be his campaign manager beginning in June of 2016. It was an inexplicable choice. Manafort had worked for years in Ukraine.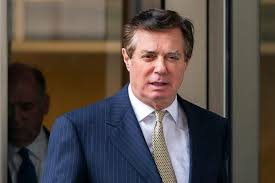 Paul Manafort
He had as a client Russian oligarch Oleg Deripaska, paid $10 million a year to promote Russian interests in Europe and the United States. Manafort had also for five years done consulting work for the corrupt and Russia-favoring President of Ukraine, Viktor Yanukovych, who was overthrown in the country's Orange Revolution, fleeing to Russia where he lives in exile.
An FBI search warrant revealed that Manafort had obtained from Deripaska an added $10 million as a loan, which apparently had not been repaid. Conjecture had it that Manafort offered himself as campaign manager — at no change, which surely appealed to Trump — so as to erase the Deripaska debt by passing insider data to him and to Russia, with Kilimnik as the conduit.
When the partly redacted report was released in April 2019, we said:
"The special counsel [Mueller] verifies that Konstantin Kilimnik is assessed 'to have ties to Russian intelligence', so when Paul Manafort, while Trump's campaign manager, 'had caused internal polling data to be shared with Kilimnik, and the sharing continued for some period of time', how is that not collusion? That data was not what we are accustomed to seeing — just Trump X.X% vs. Clinton Y.Y%. It would have been scores of tables by state and election district, precisely what Russia was looking for in targeting its election interference. If the defense is that perhaps Manafort was freelancing his way out of debt to a Russian oligarch, Trump is nevertheless responsible for bringing on board a character with such shady dealings with Russian and Ukrainian contacts."
Barr, accused of being Trump's private attorney, feigned ignorance of the Manafort-Kilimnik connection as we reported that May in "What Mueller Report? Trump, Putin and Barr Collude to Disappear It":
"Another presidential aspirant, Sen. Cory Booker, uncovered that Barr, who had said 'no collusion' four times in releasing the report, didn't know about the most flagrant act of collusion of all, Paul Manafort's repeated passing of the campaign's own polling data to Konstantin Kilimnik, who the report said has ties to Russian intelligence services. 'What information was shared?' Barr asked. 'Polling data was shared, sir,' Booker replied. 'It's in the report. I can cite you the page.' 'With who?', Barr asked. Did Barr read the report on which he passed judgment?"
the senate does itself proud
Last August, the Senate Intelligence Committee turned in its report on Russia's interference in the 2016 election, an investigation that took three years and nearly 1,000 pages to report. This was a Republican-led committee, chaired by North Carolina's Richard Burr, that produced a bipartisan report not at all favorable to President Trump. It established a web of connections in which Trump and 18 of his associates had at least 140 contacts with Russian nationals and WikiLeaks, or their intermediaries, during the 2016 campaign and presidential transition. The vocabulary-impaired president called the entire, massive Senate product "a hoax".
The report didn't speculate about Mr. Kilimnik; it bluntly stated "Kilimnik is a Russian intelligence officer". It elaborated:
"The committee assesses that Kilimnik likely served as a channel to Manafort for Russian intelligence services…Manafort, who was interviewed by the [Special Counsel's Office] approximately a dozen times, lied consistently to the SCO during these interviews about one issue in particular: his interactions with Kilimnik, the Russian intelligence officer at the center of the Committee's investigation."
The report considered the connection between Manafort and Kilimnik "the single most direct tie between senior Trump campaign officials and the Russian intelligence services."
Still, while collusion was plainly obvious to all but those who believed covering for President Trump excused treason, evidence was just short of knowing what precisely Kilimnik did with the polling data. After meeting repeatedly with Manafort or his associate Rick Gates in a New York cigar club where they provided the data and insider knowledge of the Trump campaign, a lack of proof has to allow that Kilimnik might have thought the information useless and tossed it in the trash.
A federal arrest warrant for Mr. Kilimnik had been issued back in June, 2018. But something had clearly come to light when this February, the Washington field office of the FBI put up a wanted poster offering $250,000 for information leading to his capture. Suddenly, there seemed to be amplified reason for finding him.
That reason came clear April 15th when the Treasury Department issued new sanctions against Russia for 2020 election interference and the Solar Wind hack. The department said in a news release that…
"During the 2016 U.S. presidential election campaign, Kilimnik provided the Russian Intelligence Services with sensitive information on polling and campaign strategy. Additionally, Kilimnik sought to promote the narrative that Ukraine, not Russia, had interfered in the 2016 U.S. presidential election"
This was finally a declaratiove statement that Russian intelligence had received the data supplied by Manafort. It closed the circle of collusion — from Trump campaign's Manafort to Kilimnik to the Kremlin.
Rick Gates issued a statement saying that the Treasury Department had not provided evidence in support of its claim, which, of course, it had not for reasons of protecting sources and methods. Gates, who cooperated with the Mueller investigation in return for a slap on the wrist sentence, said ...
"[T]he polling data passed periodically to Kilimnik at Paul Manafort's direction was simplistic and outdated, never in real time. It was from both public and internal sources. It was not massive binders full of demographics or deep research. It was 'topline' numbers and did not contain any strategic plans."
Mr. Gates was not granted a pardon by President Trump. It is very much in his interest to minimize the polling data. To believe Gates one has to think that Manafort would risk forgiveness of a $10 million obligation held by Deripaska by handing over worthless chaff.
In March of 2019, Paul Manafort was sentenced to 7 1/2 years for multiple federal crimes, a sentence viewed as unduly light. In May of 2020 he was allowed to serve out his sentence at home because of fears he might contract Covid in prison. In December, Trump pardoned him.
The Constitution says "Treason against the United State shall consist … in adhering to their [the states'] Enemies, giving them Aid and Comfort." While Trump's campaign chairman, Manafort aided the Russians in their efforts through disinformation and social media to see Donald Trump elected as president. Collusion is the polite word for treason.

Please subscribe if you haven't, or post a comment below about this article, or click here to go to our front page.