investigations
Republicans Snuff Probe of Why and How January 6th Happened
May 29 2021


Six Republicans were not enough when ten were needed to prevent a Republican filibuster from putting an end to any commission to investigate the causes of the worst attack on the seat of America's government in two centuries. In a 54-to-35 vote, Republicans gave license to the rabble to do it again. Eleven senators couldn't even be bothered to show up for the vote.
Mitch McConnell reportedly worked members of his Republican caucus to vote against the bill as a "personal favor", as good as saying, "Don't help the country, help me".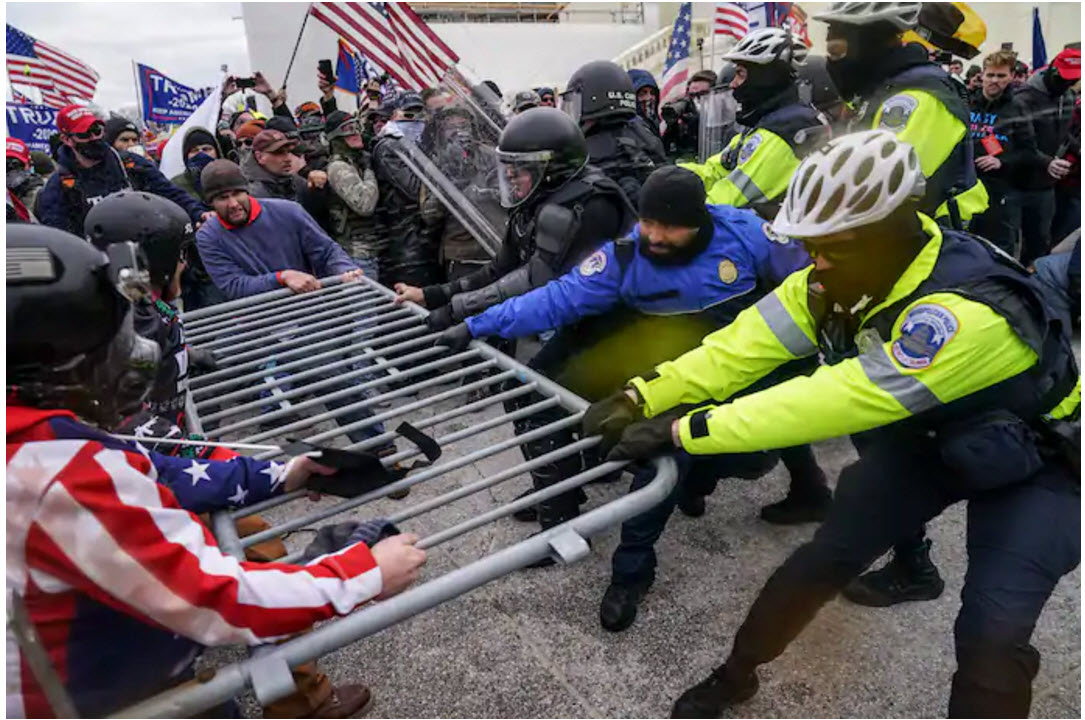 What a change from the days just after January 6th when Republicans and Democrats alike were horrified by the assault on the Capitol and laid the blame directly on still-President Donald Trump for inciting the mob at his nearby rally. Hadn't he encouraged the white supremacists, white nationalists, and neo-Nazis to come to Washington, telling them, "Big project in D.C. on January 6th. Be there, will be wild!"? Hadn't he said to them at the rally near the Capitol, "We must stop the steal…Our country has been under siege for a long time…You are allowed to go by very different rules. You have to get your people to fight. And we fight. We fight like hell."?
On the House floor Minority Leader Kevin McCarthy (R-Cal) had said, "The president bears responsibility for Wednesday's attack on Congress by mob rioters. He should have immediately denounced the mob when he saw what was unfolding". Senate Minority Leader Mitch McConnell (R-Ky) said before his chamber, "There's no question, none, that President Trump is practically and morally responsible for provoking" the attack on the U.S. Capitol.
But as the weeks passed Trump had cemented his position as head of the party as congressional Republicans began to fear that should they show any disloyalty he would use the millions in contributions he was raking in from his followers to fund rivals in the 2022 primaries. He told the GOP, "I am the Party!" and to keep the money flowing in his direction ordered the national committee to stop using his name and likeness in their fund-raising. He held out the prospect that he might run again in 2024, which froze all other contenders in fealty mode.
accessories after the fact?
What must be stopped, what drove Trump wild, was any possibility of a commission to investigate the happenings of January 6th, no matter that the attack on Congress led to five deaths and 140 Capitol police injured. Save for a very few who think we should get at the truth, Republicans readily agreed. Some realize that testimony might implicate them in the insurrection, certainly if they had any contact with members of the marauding groups such as the Proud Buys, the Three Percenters, and others. There was that January 13th letter from 34 members of the House requesting an immediate investigation into who was conducting tours on January 5th — effectively revealing the layout of the Capitol — when the Capitol building was closed to the public. Who might have to explain that? If subpoenaed to testify under oath, what they might be forced to say that might displease Trump. They worry that a commission's proceedings constantly reminding the public of their day of infamy will carry over into the 2022 election.
So the strategy Republicans have adopted is to rewrite the history of what happened that day, to tell their voters not to trust their lying eyes that had been fooled by all that video footage. They began downplaying one of the worst days in our democracy as if it was not all that bad.
Senator Ron Johnson (R-Wis) claimed it was generally a "peaceful protest". Representative Ralph Norman (R-SC) questioned whether the mobs were actually Biden supporters in Trump regalia chanting pro-Trump slogans to make the right wing look bad. "I don't know who did the poll to say that they were Trump supporters," Mr. Norman said.
And, what about those riots last summer in cities like New York and Oakland? Representative Andy Biggs of Arizona, the chairman of the right-wing House Freedom Caucus, used his time at a House Oversight and Reform Committee hearing to show video of mob violence purportedly by antifa, which isn't even an organization, that had unfolded at the other side of the country in Portland, Ore.
Georgia Representative Andrew Clyde (R-Ga) outdid them all, saying that the crowd, taking selfies and staying within the rope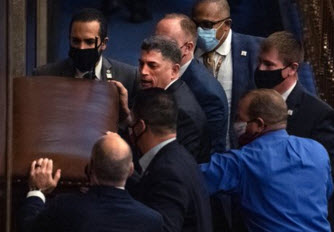 Clyde, second from left at top ,
fortifying a door against attackers

lines, looked more like a "tourist visit" than a riot; he had, for the sake of Donald, erased from memory his moment of terror when he was photographed frantically trying to barricade a door the mob was trying to breach. "Let's be honest with the American people", Mr. Clyde said, "It was not an insurrection" because it had not succeeded.
All the while, Mr. Trump was using right-wing cable outlets to endlessly push the false flag fable that the crowd was antifa and Black Lives Matter.
diffusion and dilution
Republicans decided to object to any commission that was narrowly focused. They said it must also probe the nighttime riots (but not the peaceful daytime Black Lives Matter protests) that followed the George Floyd murder last summer. Kevin McCarthy added the murder of Capitol officer William Evans months later on Good Friday and even proposed adding the 2017 attack at a Republican baseball practice that almost killed Rep. Steve Scalise. McCarthy even feigned concern that a commission might interfere with the Justice Department's prosecution of the Capitol insurrectionists.
The objective was to scatter the focus of the commission, hoping to give Republicans whataboutist opportunities to put looting, vandalism, and the assault on a federal courthouse in Portland supposedly by the amorphous antifa on a par with the worst attack on Congress in two centuries.
caving to trump
McCarthy had deputized Rep. John Katko (R-NY) to work with his Democratic counterpart Bennie Thompson (D-Ms) to iron out disagreements on the format of a commission, expecting failure. But the Democrat yielded three key points to make it work and McCarthy pulled the rug from under their agreement, coming out against the commission. After all, Trump was watching.
On January 6th in the midst of the riot, he had been the first to contact Trump, correcting him for trying to insist the Capitol attackers were antifa, reportedly yelling at Trump to call off the insurgents. Trump responded, "Well Kevin, I guess these people are more concerned about the election than you are", according to Jaime Herrera-Beutler (R-Wa) who was sequestered with McCarthy during the siege.
But he would thereafter rush to Mar-a-Lago to atone. He could point to his voting against certifying Arizona's election results, citing Trump's claims of fraud, and was one of the 126 who signed the amicus brief to the Supreme Court in the case brought by Texas that urged the justices to invalidate the votes of four states, none of them his. He was opposed to impeaching Trump for inciting insurrection because "No investigations have been completed; no hearings have been held…." yet now is opposed to just such an undertaking. As the vote for the commission approached, he was all in for Trump.
The House passed the bill to establish the commission 252-to-175, with 35 Republicans voting "Aye". Trump called the 35 "ineffective and weak". It should be a safe bet that comparing that list to the 147 who attempted to end democracy on January 6th by voting against certifying the states' election results will show no overlaps. Ohio Democrat Tim Ryan ripped into the rest of them, yelling on the floor of the House:
"We have people scaling the Capitol, hitting the Capitol police with lead pipes across the head, and we can't get bipartisanship! What else has to happen in this country? Cops, this is a slap in the face to every rank-and-file cop in the United States…We need two political parties in this country that are both living in reality—and you ain't one of them".
Mitch McConnell loathes Donald Trump, blaming him for the loss of his position as majority leader of the Senate for having dissuaded Georgian Republicans from voting in what he said would be a fraudulent runoff, with the result that both Senate seats went to Democrats. McConnell had intoned,.
"No question about it. The people who stormed this building believed they were acting on the wishes and instructions of their president. And having that belief was a foreseeable consequence of the growing crescendo of false statements, conspiracy theories and reckless hyperbole which the defeated president kept shouting into the largest megaphone on planet Earth."
And yet, he had not voted to convict. And now, just a day after saying that his Republican caucus was undecided and "willing to listen", he called the House commission proposal "slanted and unbalanced" and decided, "There's no new facts about that day we need the Democrats' extraneous commission to uncover".
The real reason for both McCarthy and McConnell is, of course, that commission findings could only tarnish the GOP and possibly jeopardize next year's election. McCarthy will do anything to please Trump, in the belief that the Maharaja of Mar-a-Logo will anoint him the Speakership in the expected Republican takeover of the House in next year's elections. For McConnell, nothing is more important that winning the Senate, not for legislative reasons — for that there's the filibuster to block Biden — but because it would restore him to his mightly position as majority leader.
The January 6th insurrection did not rise in importance to them of the attack far from our shores that warranted 33 Benghazi Select Committee hearings over more than two years that had already been investigated by seven other Congressional committees.
virtue signaling
Lack of any bipartisanship has put the highly principled Democratic Senators Joe Manchin and Kyrsten Sinema in a quandary. They don't want the fine old institution of the filibuster done away with by their party. Filibuster retention serves to hand control of the Senate to the Republicans, allowing them to block everything Democrats propose, but for these two that is the regular order of Senate tradition that must be preserved, though found nowhere in the Constitution.
So the two issued a "statement" that implored "our Senate Republican colleagues to work with us to find a path forward on a commission to examine the events of January 6th". It more clearly could have said, "How about some payback for saving your filibuster?".
Before the Senate vote on the commission, Gladys Sicknick, the mother of fallen Capitol Police Officer Brian Sicknick, issued a statement about her son that read in part:
"He and his fellow officers fought for hours and hours against those animals who were trying to take over the Capitol Building and our Democracy as we know it…Not having a January 6 Commission to look into exactly what occurred is a slap in the faces of all the officers who did their jobs that day".
She, her son's partner, and two Capitol police officers requested a meeting with all GOP senators before the vote to urge them to back the commission, but most Republican senators are concerned only for themselves and their reelection and not for those who daily protect them. Fifteen did meet with them, one of them Susan Collins (R-Me) who said, "We owe it to the brave men and women who defended our lives that day and in some cases did so at the cost of their lives".
As for the rest, that they refused to meet with the mother of an officer who died protecting them shows that Senate Republicans have sunk to the depths of moral bankruptcy.
The procedural vote to overcome the filibuster needed just 10 Republicans to step forward and show their greater concern for the country's need to learn just what has gone wrong to create such fissures in our society. Manchin said, "So disheartening. It makes you really concerned about our country…I'm still praying that we've still got 10 good solid patriots within that conference". Just 10 would have added to the 50 Democratic votes to reach 60 to end debate and lead to a vote in which only 51 prevails. It should have been a unanimous 100.
Despite the intimation that disgust might cause him to go with the rest of his party, Manchin was still holding out on the side of the non-patriots just before the Senate vote, saying, "I'm not ready to destroy my government, no".

Please subscribe if you haven't, or post a comment below about this article, or click here to go to our front page.