supreme court
The Death of Ethics: The Right Wants Justice Thomas to Refuse to Recuse
Apr 16 2022


When Bob Woodward and Robert Costa broke the story about the 29 emails exchanged between Ginni Thomas, wife of Supreme Court Justice Clarence Thomas, and Trump's Chief of Staff Mark Meadows, it seemed indisputable that the justice should recuse himself from any case related to the January 6th coup plot that could come before the Court.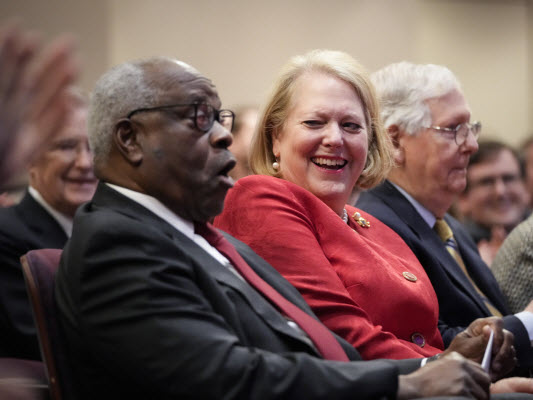 Ginni Thomas with husband Justice Clarence Thomas

Ms. Thomas had fervidly implored Meadows to do everything in his power to overturn Joe Biden's 2020 election victory and hand Donald Trump a second term as president. "Biden and the Left is attempting the greatest Heist of our History", she wrote. Accordingly, two days after the election, she relayed Qanon-flavored intelligence to Meadows that
"Biden crime family & ballot fraud co-conspirators (elected officials, bureaucrats, social media censorship mongers, fake stream media reporters, etc) are being arrested & detained for ballot fraud right now & over coming days, & will be living in barges off GITMO to face militaryhttp://letsfixthiscountry.org/2022/04/16/the-death-of-ethics-the-right-wants-thomas-to-rufuse-to-recuse/ tribunals for sedition."
"Help This Great President stand firm, Mark!!!...You are the leader, with him, who is standing for America's constitutional governance at the precipice. The majority knows Biden and the Left is attempting the greatest Heist of our History."
pushback
Americans agree, 53% to 28% in one poll, that Thomas should recuse, so it was striking that conservatives immediately discarded principle and waged war against recusal. A barrage of editorials, columns, and cable outrage poured forth to the disbelief of the left, arguing that there was no conflict, that it was outlandish to think that Justice Thomas could have been corrupted by his wife's extremism.
When some of the more heated members of the left such as Alexandria Ocasio-Cortez demanded that Thomas resign outright, the right took that as proof that the left's real agenda is to delegitimize the Court in advance of its decisions on abortion, gun control, and affirmative action on the near horizon. John Malcom of the Federalist Foundation said, "This is really part of an ongoing effort to try to intimidate conservative judges and an ongoing and longtime effort to denigrate Justice Thomas and to delegitimize the court." Lacking in conservative media hammering on this theme was any concern that the conflict of a wife manic to upend the Constitution and her husband a Supreme Court justice who refuses to step aside is itself what contributes to a growing public view of an illegitimate Supreme Court.
"We are long past the day when a wife's opinions are assumed to be the same as her husband's", wrote columnist Jason Riley at The Wall Street Journal, as if that somehow ruled out cross-pollination. Ginni's saying in an interview with The Free Beacon that, "Clarence doesn't discuss his work with me, and I don't involve him in my work" was quoted by all as dispositive. How indecorous it would be to disbelieve her.
However, one of her emails to Meadows said, "Thank you!! Needed that! This plus a conversation with my best friend just now…". Ms Thomas has often referred to Mr. Thomas as her best friend.
A source close to the Thomases said, "by modern standards we accept the fact that two professionals who are spouses can have distinctive and separate professional lives." The unnamed source said the couple isn't preoccupied with the day-to-day of each other's careers, and stressed that Justice Thomas isn't interested in politics and "doesn't like the back and forth." Is this person a live-in that knows everything said between the two? This is what is presented as conclusive.
Confronted in an interview with the federal law that says recusal is required when one's spouse is implicated, Malcom answered,
"I completely disagree with that. I mean, Ginni Thomas is not a lawyer. She is not a litigant. She doesn't work for any organization that is a party to any lawsuit… She has no personal interest at all that could be affected by the outcome of any litigation related to the election or January 6."
Jonathan Turley, a professor at George Washington University Law School and an anti-impeachment witness in the congressional proceedings, called Ginni Thomas's petitioning to Meadows "constitutionally protected advocacy".
The Journal plays down the story. There's a war going on, after all. "Sounds nefarious, until you understand that the back and forth added up to nothing meaningful". The editorial board raises the question of why these messages have leaked in the first place. That's novel: a newspaper that thinks we shouldn't know about such things. "The right answer is that Ginni Thomas is no threat to the Court, no matter how bizarre her view about the 2020 election." Ginni Thomas haranguing Chief of Staff Meadows with, "You guys fold, the evil just moves fast down underneath you all. Lots of intensifying threats coming to ACB [Justice Barrett] and others" is thus reduced by the Journal to a "view". "There is no reason to believe her personal political views influence the judicial impartiality of Justice Thomas".
But there is reason. If Justice Thomas's record showed that his decisions had no confluence with his wife's radical activism, that might have settled the matter, but it doesn't. Here's why:
He voted against the Affordable Care Act and for the Muslim ban, both in accord with her "views".
After the 2020 election, about the time of the text messages, Texas filed an outlandish suit to throw out the election results in four battleground states in which Texas had no right to interfere. The Court threw out the case but Thomas joined with Justice Samuel Alito in a brief statement saying that the Court had not given the case adequate consideration.
In a more suspect case, Trump sought an emergency application at the Court to block the National Archives from turning over documents from his White House days to the congressional select committee investigating the January 6 plot. Eight justices voted against Trump on January 19th; Thomas was the only holdout. He voted to block the transfer.
Why? Was he aware of his wife's emails to Meadows, that they might be found in the document trove? Thomas wouldn't have thought that, a Journal editorial wants us to think, because on January 19th he was voting to hold back documents sitting at the National Archives, whereas the Woodward/Costa exposé said it was Meadows himself who turned over the documents containing the emails. Problem is, Thomas wouldn't have known on January 19th that they were absent from the Archives' repository, because the Woodward/Costa piece didn't appear until March 23rd.
the letter not the spirit
Opponents of Thomas's recusing stay within legal arguments and clear of ethics. Section 455 of 28 U.S. Code states rules for recusals. It says, "any justice, judge or magistrate judge of the United States shall disqualify himself in any proceeding in which his impartiality might reasonably be questioned". Judges should not participate, the law says, in proceedings in which their spouse has "an interest that could be substantially affected by the outcome of the proceeding". There's a bit of irony in that. Does it not require that Thomas stay apprised of what his wife is up to, rather than their professed unmindfulness of each other's work?
The argument is that Ginni Thomas had no "interest" in the January 6th outcome. With her influencing Mark Meadows to go through with the plan to keep the presidency for Trump, urging him "to buck up your team on the inside, Mark" (and note that he answered, "I will stand firm. We will fight until there is no fight left. Our country is too precious to give up on"), how can it be argued that she has no interest in the outcome?
But recusal critics read into "interest" financial interest, as if only money is important enough for consideration. In 2007, for example, Justice Thomas recused from a number of cases involving Wachovia while his son was working at Wachovia Securities.
So rattled is Dan McLaughlin, a senior writer at National Review Online, by the prospect of public outcry over Thomas refusing to recuse that he just devoted over 7,200 words to the subject a full three weeks after the story broke.
He quotes Scalia, fuming that "a blast of largely inaccurate and uninformed opinion" by inaccurate media accounts" cannot determine the recusal question". But Scalia's case is incomparable to Thomas's — he was ridiculously asked to recuse from a case involving Dick Cheney, when vice president, because they had gone on a duck-hunting trip together. An irrelevant digression by McLaughlin cites the many instances of camaraderie between justices and government officials which bothered no one, as if neither should this, as if that is an equivalence.
He asks why other current justices — citing Breyer, Ginsburg, Kagan, Sotomayor — did not self-recuse in cases that involved organizations in with which they were affiliated in the past. Apart from those connections being in their past, unlike Ginni being very much in Clarence's present, this conflict doesn't have to do with the ACLU or an autographed copy of an opinion donated to the pro-abortion NOW Political Action Committee (Ginsburg) or the Puerto Rican Legal Defense and Education Fund (Sotomayor). Perhaps they should have recused but not "by any stretch, are we in a situation where the mere fact of Ginni Thomas having sent some agitated texts to people on Team Trump about the 2020 election implicates her in a 'coup'", McLaughlin argues. Right, but no one is saying she was involved. The issue is how she might influence her husband, that we are not required to believe that husband and wife, both of highly conservative views, never talk to each other about the subject. Mr. Thomas has an activist wife whose "opinions", as McLaughlin downgrades them, wasn't a plotter but urged the plotters on to overthrow America's democracy.
The law's reasonable test is swept aside by the recusal critics. To recuse on the basis that "impartiality might reasonably be questioned" asks a judge to impute his or her questionable impartiality. Hostile critics would seize on that. "A justice does not have to recuse because an observer who was misinformed about the facts would think the justice had a conflict", says McLaughlin.
Ignored is the matter of appearance to the public eye, and the concern for the prospect that here would be a Supreme Court justice deciding January 6 sedition cases with a wife who had been advocating that very sedition on January 6, and if you don't quite see the word "sedition" in the emails, just what is it you think they were talking about?
There's no question that Ginni Thomas's extraordinary extremism (she also attended the January 6 rally, but did not storm the Capitol) creates an appearance of fanaticism that is far beyond the norms of political engagement.
The conservative paper The New York Sun came up with the principle that it is Justice Thomas's "duty to sit" on these cases, that "recusal would be an abdication of that duty". Other media quickly picked up on that theme. How is that not saying that there should be no such thing as recusal, if a justice is always to sit?
word from above
Chief Justice Roberts has "complete confidence in the capability of my colleagues to determine when recusal is warranted". We should not concern ourselves. "There is no higher court to review a justice's decision not to recuse in a particular case," he wrote. "This is a consequence of the Constitution's command that there be only 'one Supreme Court.' " But there is the court of public opinion and its trust in the Court matters for the nine jurists with neither purse nor army to enforce its rulings.
Roberts's other argument is better.
"If an appeals court or district court judge withdraws from a case, there is another federal judge who can serve in that recused judge's place. But the Supreme Court consists of nine members who always sit together, and if a justice withdraws from a case, the court must sit without its full membership."
A good point although nowadays there's a highly partisan 6-3 imbalance that cushions against 4-4 deadlock.
Gabe Roth, executive director of Fix the Court, says his group is
"trying to say there are basic ethics standards that every judge in the country should follow, and the Supreme Court, which has exempted itself from even having a basic ethics code, shouldn't be exempt, and that no justice is above the law and above basic ethics — ethical guardrails. And, in this case, Justice Thomas is not following those standards.

Please subscribe if you haven't, or post a comment below about this article, or click here to go to our front page.