insurrection
The Scheme to Steal the Election.
Part 2.
May 22 2022


After the 2020 election, Donald Trump won the media's attention with incendiary claims that the election had been stolen, ultimately rousing his base to riot when Congress met to certify that Joe Biden was to be the new president. We covered that route to January 6th in Part One.
Occurring in parallel, surfacing only later, primarily from the work of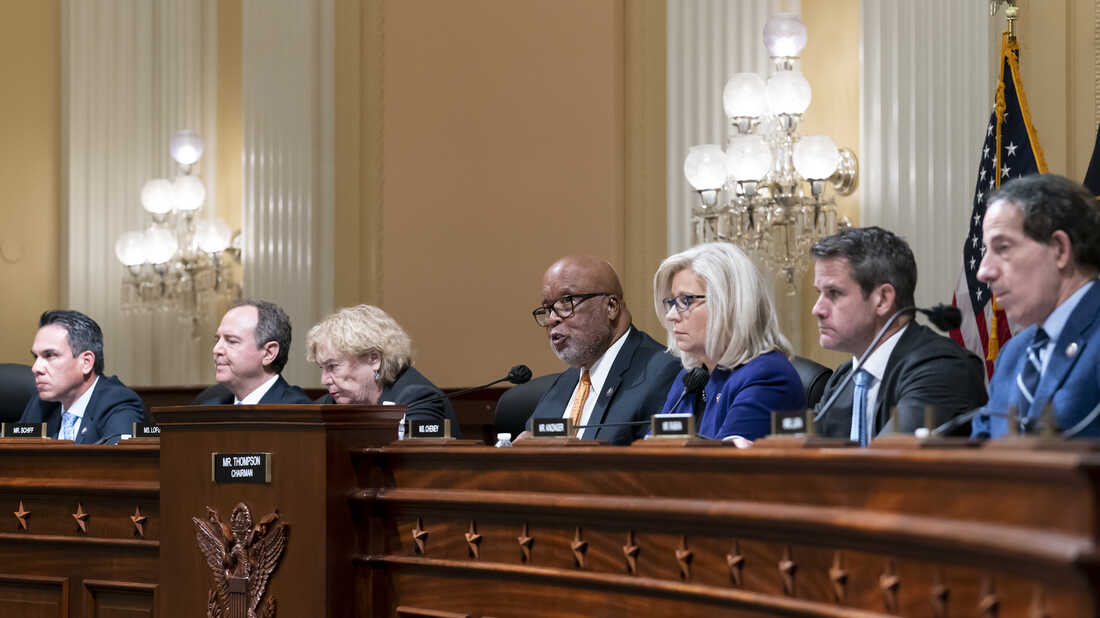 House Select Committee investigating the happenings of Jan. 6, 2021

the House Select Committee investigating everything related to January 6th, did it become apparent that Trump allies were hatching a scheme to overturn the election by disrupting the proceedings in Congress. Had the plot succeeded, it would have been an actual stolen election, this time by Trump.
THE BEST LAID PLANS…?
In the two-month span from November 3rd to January 6th, text messages, email, and tweets showed how widespread was the Republican push to keep Donald Trump in the White House.
Everyone turned to Mark Meadows as chief of staff. Energy Secretary Rick Perry texted him the day after the election with ideas for overturning the results. "We have the data driven program that can clearly show where the fraud was committed. This is the silver bullet", he wrote.
Three days after the election, Arizona representative Andy Biggs, wary that what he proposed would be "highly controversial" to the point of referring to electors in coded sound-alike language ("a look doors"), wrote of state legislatures appointing substitute electors "in the various states where there's been shenanigans."
Marjorie Taylor Greene texted Meadows, "Good morning Mark, I'm here in DC. We have to get organized for the 6th...We are getting a lot of [House] members on board. And we need to lay out the best case for each state".
Rudy Giuliani, Trump's personal lawyer began speaking to state legislators in a quest to persuade them to reverse electoral college votes.
The media had contacted Alabama Representative Mo Brooks, who wrote to Meadows and others in a group text asking whether he should answer their questions about the "formulation of our January 6 strategies" or whether he should "be mum".
In over a hundred text messages to Meadows after the election, Utah Senator Mike Lee and Texas Representative Chip Roy urged that Trump campaign to overturn the election. Fearing that this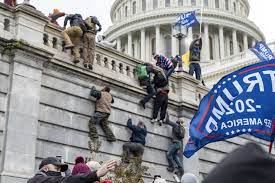 would lead to Congress deciding the presidency very four years, Roy ultimately withdrew, but Lee, a who called himself a "constitutional conservative" who had written three books on the Constitution, persisted to the end, telling Meadows he'd spent January 4th "calling state legislators for hours today."
On January 2nd, Texas Senator Ted Cruz sent Meadows a link to a statement by him and six other senators and four senators-elect that called for a 10-day delay in certification for election results to be audited which would "dramatically improve Americans' faith in our electoral process and would significantly enhance the legitimacy of whoever becomes our next President."
The day before, Ohio Representative Jim Jordan decreed,
"On January 6, 2021, Vice President Mike Pence, as President of the Senate, should call [cull?] out all electoral votes that he believes are unconstitutional as no electoral votes at all — in accordance with guidance from founding father Alexander Hamilton and judicial precedence."
The next day, after the assault on the Capitol, Wyoming's Liz Cheney allegedly said to Jordan, "Get away from me. You f**ing did this."
Even after January 6th, the right wing was still looking for ways to keep Trump in office. Three days before Biden's inauguration, Ms. Greene texted Meadows…
"In our private chat with only Members, several are saying the only way to save our Republic is for Trump to call for Marshall law...They stole this election. We all know. They will destroy our country next. Please tell [Trump] to declassify as much as possible so we can go after Biden and anyone else!"
In her misspelling Greene showed she doesn't understand what is meant by martial law.
This is a sampling. Cassidy Hutchinson, former special assistant to the president and Meadows, named 11 members of Congress involved in discussions with White House officials about overturning the election. To those already mentioned above, she added Paul Gosar and Debbie Lesko of Arizona, Matt Gaetz of Florida, Jody Hice of Georgia, Louie Gohmert of Texas, and Lauren Boebert of Colorado. Ms. Hutchinson testified that...
"They felt that they had the authority to — pardon me if my phrasing isn't correct on this, but — send votes back to the states or the electors back to the states."
ACOLYTE IN CHIEF
Then there is Mark Meadows himself. He seems to have urged onward every scheme for Trump's keeping his grip on the presidency. Only "once it became clear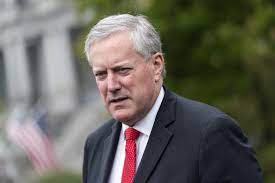 Trump's Chief of Staff, North Carolina's Mark Meadows
that there would be mass resignations, including lawyers in the White House Counsel's Office", did Meadows back down from some of the more extreme tactics, according to Hutchinson. The House panel also emphasized how personally involved Mr. Meadows was in attempts to pressure Brad Raffensperger, the Georgia secretary of state, over Mr. Trump's loss there — so much so that Mr. Raffensperger ducked and ignored his phone calls, viewing them as improper.
Ms. Hutchinson told the committee that the White House chief of operations warned that "we had intel reports saying that there could potentially be violence on the 6th", but Meadows was undeterred. She was on hand when the White House Counsel's Office told Messrs. Perry, Gaetz, and Gohmert that a plan to create so-called alternative Trump electors to unseat the official electors for Biden was "not sound", but Meadows gave the go-ahead anyway. He reportedly wrote, "I love it." in a text exchange with a member of Congress.
In his email exchange with Ginni Thomas, wife of Supreme Court Justice Clarence Thomas (we wrote of this, found here), keeping Trump in power became for Meadows a religious imperative:
"This is a fight of good versus evil... Evil always looks like the victor until the King of Kings triumphs. Do not grow weary in well doing."
Making unmistakable his willingness to subvert the Constitution was his answer to Jim Jordan's call for Pence to throw out "all electoral votes that he believes are unconstitutional" to which Meadows replied, "I have pushed for this."
ROSTERS OF IMPOSTERS
There were sub-plots. Sub-plot #1: Just 15 days after the election, lawyers for the Trump campaign in the battleground states that Trump had lost received a memo outlining a plan to develop alternate pro-Trump slates of electors. The alternates would not contest the official December 14th naming of electors by the states. That would presumably tip the hand of the plot, giving enough time before the final January 6th certification for the strategy to be derailed. The presentation of alternate slates would wait for that final date to suddenly throw the certification into chaos.
Fake elector lists were developed for five states — Arizona, Georgia, Michigan, Nevada and Wisconsin. Following official procedure, they were even submitted to the National Archives.
This was no grass roots movement. It bore all the telltales of centralized organization. "A single glance at the five phony certificates shows that they are nearly identical in format and text, right down to the fonts", pointed out Philip Rotner, a lawyer who writes at The Bulwark.
A total of 59 individuals from five states signed the documents. "They seem to be a fairly representative sample of Americans with quotidian jobs, nice families, and cute pets — not hardened denizens of the criminal underworld", Rotner surmised. People who mostly didn't know that they were being recruited to break the law by committing fraud.
Did Trump know? He issued a statement that he believed it justified to use alternate electors in Congress to challenge the certification, but his statement was a year after the fake electors scheme was exposed. GHOSTS IN THE MACHINES
Sub-plot #2: Personages such as lawyer Sidney Powell worked to build suspicion of the election with fanciful imaginings that could only be believed by the conspiracy-loving fringe. She proclaimed that voting machines had used software developed in Venezuela jiggered to keep Cesar Chavez in power a dozen years earlier; that the leadership of Dominion Voting Services, which produced the vote-tabulating machines, had ties to George Soros and the left-wing movement antifa; that the Defense Department, which she contacted directly, needed to send a special operations team to Germany to grab CIA director, Gina Haspell, who was there to seize and destroy a computer server farm that had switched votes from Trump to Biden. "This is real! It is not made up", exclaimed Giuliani. "There's nobody here that engages in fantasies…You should be more astounded by the fact that our votes are counted in Germany and in Spain!"
A retired army colonel in Texas named Philip Waldron, who had attracted Meadow's attention with a 28-page Power Point presentation advocating that Trump declare a state of emergency in the wake of the election, came up with the idea of seizing the voting machines in the states Trump had lost. Waldron was in league with retired General Mike Flynn, Trump's original national security adviser who had been convicted of twice lying to the FBI, his sentence reduced by Attorney General Bill Barr, and his conviction pardoned by Trump. Flynn thought Trump should invoke martial law. He had been on Newsmax to say that Trump could seize the machines and "basically rerun an election in those states". Actually, Trump had earlier met with Attorney General Bill Barr to ask if he would have the Justice Department impound the machines. Barr had immediately rejected the request.
However outlandish, the notion that the election had been stolen was clearly taken in as belief by the conspiracy-minded. Why other than true belief would the scheme of snatching voting machines have made any sense except confidence that corrupted algorithms would be found in their innards? After all, hadn't President Trump tweeted that Dominion's machines had "deleted 2.7 million Trump votes nationwide"? If he said it, it must be true.
To their surprise, Flynn, Patrick Byrne (founder of Overstock.com who had become an avid Trump backer), and Sidney Powell were able to wander into an insecure White House on December 18th without a scheduled meeting. But they caught the president's eye and were hailed into the Oval Office for what proved to be a raucous meeting. Meadows, White House Counsel Pat Cipollone, and White House aides engaged in what CNN reported as "screaming matches" over Powell's over the top ideas for overturning the election, Flynn's push for declaring martial law, and the military commandeering voting machines in battleground states. Aide to Meadows Hutchinson told the committee that White House lawyers threatened to resign if the scheme were adopted.
The meeting went well into the evening with Giuliani contacting the Department of Homeland Security to see if it had the authority to confiscate the machines. Telling the president he would be impeached again and that "we would all end up in prison", as he later related, Giuliani successfully quashed Trump's interest in the ploy. Or so it seemed. In documents handed over by the National Archives to the House select committee was a draft executive order for the defense secretary to have the voting machines seized. Another would emerge giving Homeland Security the authority it lacked. The orders were never signed nor executed.
FIRE THE ATTORNEY GENERAL
Sub-plot #3: Trump and Meadows had made repeated attempts to press the Justice Department for help in overturning the election when in late December, Representative Scott Perry of Pennsylvania put Meadows in contact with a high official at Justice, Jeffrey Clark, who had been promoting claims of voter fraud.
Clark had written a letter that he proposed to send to Georgia's governor, house speaker, and senate president that began with the lie that the DOJ was conducting an investigation of "various irregularities in the 2020 election" and that "the Georgia General Assembly should convene in special session" to look into irregularities in that state. The plan was to send the letter, an implicit threat, to all states narrowly lost by Trump.
"That letter that this guy wants to send — that letter is a murder-suicide pact," Pat Cipollone told Trump. "It's going to damage everyone who touches it. And we should have nothing to do with that letter. I don't ever want to see that letter again."
Neither Acting Attorney General Jeffery Rosen nor his second in command Richard Donoghue would co-sign the letter, which quashed its sending. But that was a firing offense for Trump, who decided to replace Rosen with Clark. He backed off when he heard that firing Rosen would cause others at Justice to resign en masse.
Clark would invoke the Fifth Amendment more than 100 times when he spoke to the January 6 committee in February. Perry refused to comply, tweeting that the committee is "illegitimate, and not duly constituted under the rules of the House of Representatives".
DENOUMENT
It could be argued that, to this point, Donald Trump was either not involved in the back and forth between the conspirators or that nothing came of various schemes as they were discarded one by one. That would change in the final few days before the 6th when the key proponents of keeping Trump in power settled on a plan outlined by lawyer John Eastman.
In our goal of documenting the most serious challenge to the nation's democracy (the Civil War almost split the country in two, but an election went on in its midst), we will spin out that final chapter as the House Select Committee's public hearings, scheduled to begin June 9th, draw near.

Please subscribe if you haven't, or post a comment below about this article, or click here to go to our front page.