the culture
Upheaval Roils the Social Media World
Troubles beset Musk and Zuckerberg well beyond TikTok
Nov 12 2022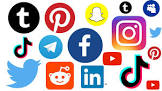 Two of America's otherwise hugely successful entrepreneurs have discovered that they are not immune to the consequences of hubris. Elon Musk, founder of Tesla and SpaceX, who swallowed up Twitter, is finding it indigestible. Mark Zuckerberg, convinced he sees the future, has embarked on a transformation of Meta Platforms, the renamed Facebook, that is draining the company of billions of dollars and has caused its market value to plunge by 70% over the past year. Meanwhile, TikTok, owned by the Chinese company ByteDance, has rocketed in popularity with Gen Z, making Twitter, Facebook, and Meta's Instagram seem so last decade.


Setting aside further complications – and they have cascaded – Twitter poses a financial challenge that makes us wonder whether the impetuous Musk ever pushed a pencil. After months of indecision, he had made an offer to buy Twitter for $44 billion, then backed out, was sued by the company to force honoring the deal, and decided to go ahead with the transaction rather than defend the lawsuit in Delaware Chancery court where he probably figured he'd lose.
Part of the buyout was leveraged, which means that Twitter was made to take on some $13 billion of the $44 billion in order, effectively, to buy itself for Mr. Musk. Had he used that pencil on only the back of an envelope, he would have realized that the annual interest alone runs to about $1 billion for a company that last year generated about $630 million in cashflow. Going in, Musk has structured a Twitter that does not have enough to pay its lenders.
The situation immediately worsened: advertisers began to pull out. Musk's proclaimed purpose in buying Twitter was to champion free speech, to lift the ban on those users who had violated company standards, most notable among them being Donald Trump. Envisioning their ads showing up alongside screwball QAnon conspiracy theories, white supremacist screeds, anti-Semitic hate messages, and perhaps Russia disinformation undermining the U.S. (Musk has allegedly spoken with Putin), big name corporate advertisers cancelled or suspended their accounts, causing what Musk confesses is a "massive drop in revenue" that has made the financial shortfall critical. He blamed "activist groups pressuring advertisers" even though no changes had yet been made to relax content moderation and re-admit banned accounts. "We've done our absolute best to appease them, and nothing is working", Musk candidly reported to investors.
One week at the helm, he has keelhauled half of the company's 7,500 employees, with a number of key executives quitting. Those left are grumbling about a Musk edict that they return to working at their offices 40 hours a week. Five dismissed employees filed a federal lawsuit accusing the company of violating federal and state law by giving almost no advance notice of a mass layoff.
Musk, remaining staff, and people he has brought in from his other companies are huddling to come up with ways to make more money, such as raising the price of subscriptions to $7.99 a month that allows users to post longer videos and podcasts, and a verification service that certifies for a few that users are in fact who they say they are. "We need roughly half our revenue to be subscriptions", says Musk, a lofty ambition considering that only 10% of the $5 billion in 2021 revenue came from other than advertising, and subscriptions were only a part of that.
Now the Federal Trade Commission has signaled it might step in owing to several top privacy and security executives resigning. The agency is concerned whether Twitter is still in compliance with a 2011 consent decree that requires the company to undertake security and privacy reviews of software changes and new features. The FTC has the muscle to invoke fines in the hundreds of millions if its consent decrees are violated.


Who would have predicted that enormously profitable Meta Platforms (Facebook), with a 3.5 billion customer base, a number almost half the population of the planet, could ever have a problem? Yet the company's stock price plummeted by a stunning 71% this year, a loss of some $800 billion in market value since its peak just last year in September.
Digital advertising is off across the Internet and Facebook, Instagram, WhatsApp, and Messenger are not exempt. Apple made privacy changes that prevent those Meta apps from accessing the user behavior on Apple-made phones that was key to fitting advertising to consumer targets more precisely. These are significant impacts, but the primary cause is that founder and CEO Mark Zuckerberg has chosen to transform the company, spending billions in pursuit of a personal vision of the future that has investors spooked.
Zuckerberg believes that we will live in the metaverse, an immersive realm accessed by wearing virtual reality headsets where we create cartoon-like avatars to represent ourselves. There, we will have our avatars while away the hours in any of a number of "worlds" for entertainment, socializing, adventure, business, where we meet with co-workers, family, or have chance encounters with people from around the globe who have strapped in at the same time and have sent their avatars roaming, too.
Building the technology for the metaverse will take years and Zuckerberg intends to spend more than $10 billion annually, a bleed out that has investors panicked. An open letter from one investment firm, Altimeter Capital, reported by The Wall Street Journal upbraided the company, telling it to cut the budget to $5 billion a year and the headcount by 20%, accusing the company of "drifting into the land of excess – too many people, too many ideas, too little urgency".
At the end of the third quarter, Meta had over 87,000 employees, up a whopping 28% from a year ago, at the same time as posting the first quarterly revenue declines in its 18-year history. Spending increased by 19% to bring about a 52% drop in net income compared to a year earlier.
Zuckerberg got the message. Facing up to its problems, Meta has begun laying off thousands of employees. He took responsibility at a company meeting of its executives for his optimism having led to overstaffing. But he is unyielding in his quest. On a call with analysts, Zuckerberg was defiant, saying people would "look back decades from now" and" talk about the importance of the work that was done here".
Early metaverse usage raises questions
There is already a flagship metaverse named Horizon Worlds. Meta expected it would have 500,000 active users by year-end, but interest has proved to be not that strong; that estimate has been cut to 280,000. Internal documents reported by the Journal say that users tend not to return to Horizon's worlds after about a month. More than half of the Quest headsets – costing $400 to $1,500 — show no further activity after six months.
That could be attributable to users finding so few fellow avatars in Horizon's worlds which vastly increased membership could cure, but there is resistance even within Meta. When Zuckerberg urged teams to conduct their meetings in the metaverse, it revealed that a number of employees working on the project did not even own headsets. In a post obtained by The New York Times, Vishal Shah, the vice president in charge of the metaverse divisions showed his disappointment in disuse, asking
"Why don't we love the product we've built so much that we use it all the time? The simple truth is, if we don't love it, how can we expect our users to love it?"
Zuckerberg does not suffer holdouts lightly. In June, as Reuters reported, he said that "there are probably a bunch of people at the company who shouldn't be here."
Low usage has has led to disagreement inside Meta, with concurring objections from tech writers in the media, that says the Quest headsets are best used for games and not for Zuckerberg's goal of personal connection.
The Reality Labs division, which produces the head gear and is responsible for the virtual reality software that forms the metaverse, has sold some 15 million headsets to date. The technology is extraordinary. The priciest headsets, at least, have sensors that monitor body motions and facial expressions that are imparted to the avatars for other users to see. Users complain that avatars have no legs — coming soon, says Meta – which reminds us that code to show avatar leg movements — walking, turning — to match the headset wearer's is nothing simple. Rolf Illenberger, CEO of virtual reality software company VRdirect, chastises such impatience:
We're trying to land on the moon and people are complaining that the coffee machine's not working".
Mark Zuckberberg's oft-stated goal for Facebook was connection, to bring people together. He clearly wants to take that from a flat screen that scrolls posts from friends and family to a three-dimensional world of interaction where those same people, in avatar form, can come together to talk and do things jointly. The question is whether the real world will want to spend their days wearing headsets and living virtually. An epic fail could be in the making.

Meanwhile, as if in rebuke to Zuckerberg's following the most difficult and costly path to owning the future, TikTok has found that what young people want is simply to watch selfie videos of people dancing, singing, cavorting foolishly, while making so many of them instant millionaire "influencers" whose endorsements major consumer product companies crave.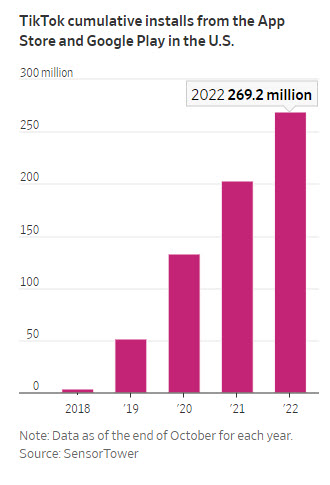 Growth in popularity has been phenomenal, crossing the billion mark of monthly active users in September and rising at an ascending rate as the bar chart shows — a rate faster than Instagram's meteoric ascent.
TikTok has had a bumpy road getting to now. Its Chinese ownership prompted an August 2020 executive order from former President Trump that banned both TikTok and WeChat. The companies fought the order in court and won, more than once, while the Trump administration pressed that the company be moved to U.S. ownership by an Oracle/Walmart consortium.
President Biden didn't pursue that option but the concerns are unabated. Direct connection to tens of millions of mostly young Americans puts the Chinese in the position of scooping up the personal data of our citizens. TikTok management in the U.S. assures the U.S. government that nothing of the sort is happening, a pledge of no value because to company can say 'hand off' to the Chinese Communist Party. China's 2017 National Intelligence Law rules that all user data must be turned over to the CCP on request. Additionally, the platform could be used to disseminate Chinese propaganda and disinformation, essentially indoctrinating U.S. kids.
An opinion piece by Republican Senators Marco Rubio of Florida and Mike Gallagher of Wisconsin just ran in The Washington Post in which they make these same points and are introducing legislation to ban TikTok. They site these findings by Forbes:
LinkedIn profiles reveal that 23 of ByteDance's directors previously worked for CCP propaganda outlets, and at least 15 ByteDance employees work for them now. Moreover, the company's editor in chief, who also happens to be the secretary of its internal CCP committee, stressed that the committee would "take the lead" in "all product lines and business lines" to ensure that ByteDance's products have "correct political direction."
That finds President Biden tacking in the opposite direction. He has been cozying up to TikTok. In October he brought eight influencers to the White House, joined by former President Obama, and with tours of Congress and the Supreme Court laid on, the objective being to influence the influencers to bring out the vote for Democrats.

Please subscribe if you haven't, or post a comment below about this article, or click here to go to our front page.