elections
Apr 18 2018
Justices of the Supreme Court considering two cases (see companion article) wish there were some standard by which overly partisan gerrymandering could be struck down. Rather than petitioning the Court to hear one after another electoral district dispute, a standard would inhibit the states from drafting violations in the first place, knowing what would be the outcome.
What is dismaying is that the answer is hiding in plain sight, an answer that would do away with gerrymandering and partisan bias altogether, a solution that, inexcusably, none of the justices or lawyers for either party of these disputes seem to know anything about.
The answer lies in politically blind apportionment. Why couldn't that same software, guilty of drawing grotesque monstrosities such as the Maryland district (pictured)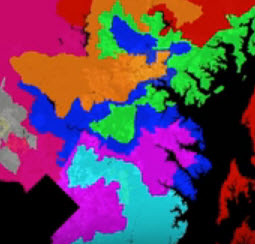 Blue marks the challenged
Democratic district, part of which
lies along Chesapeake Bay, in black.
before the court, be reworked to produce agnostic district maps across the country that pay no attention to political parties?
In fact, there's already software that does precisely that. It's now years ago that we — knowing software — claimed that the same population mapping software that creates gerrymandered abominations could be reconfigured to instead create districts that connect contiguous neighborhoods while, in the process, entirely ignoring the or racial contents or voting habits of the populations being assigned to… Read More »