Here and there Donald Trump had wondered aloud about Ukraine's involvement in the 2016 election. In an April 2017 interview with The Associated Press, he began talking about the hack of the Democratic National Committee (DNC) a year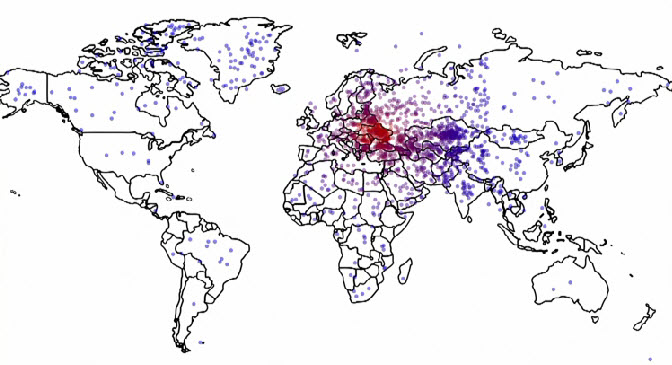 Just after its revolution in 2014, political scientists from Dartmouth, Harvard, and Princeton asked 2,066 Americans to locate Ukraine on a map. Each dot is an individual's answer.

earlier, asking why the FBI had not taken possession of the server. "They brought in another company that I hear is Ukrainian-based", the president said. "CrowdStrike?" the surprised reporter asked, referring to the California cybersecurity company that did the investigative work to determine how Russian government hackers had broken into the server and stolen Democratic emails. "That's what I heard", Mr. Trump affirmed. "I heard it's owned by a very rich Ukrainian; that's what I heard."
As early as October of 2016, Homeland Security and the Director of National Intelligence stated their confidence…
"that the Russian Government directed the recent compromises of e-mails from US persons and institutions, including from US political organizations consistent with the methods and motivations of Russian-directed efforts"
By three months later the CIA, FBI, and NSA concluded in a joint statement that…
"Russian President Vladimir Putin ordered an influence campaign in 2016 aimed at the US presidential election… We further assess Putin and the Russian Government developed a clear preference for President-elect Trump. We have high confidence in these judgments."
The Mueller report, based on the forensic analysis of logs and the seemingly indecipherable Internet routings that we never see, would detail the activities of the Russian General Staff of the Armed Forces (GRU) and the cutouts they used such as Guccifer 2.0 to hack their way into servers of choice in the U.S.
In July of this year, the news media broke the story that the CIA was forced to extricate to the U.S. in 2017 a decades-long source who had risen to a position… Read More »