elections
Apr 28 2018
It is certainly strange in this putatively representative democracy that a corrosive practice just the opposite has been allowed since almost the nation's birth. Gerrymandering — the mapping of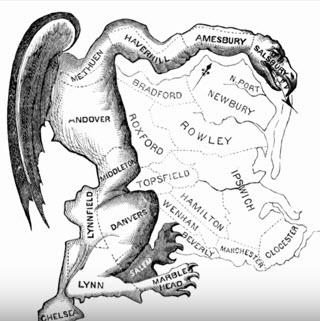 The original gerrymander, from the
Boston Gazette of 26 March 1812,
named after Governor Elbridge Gerry
for signing a bill that redistricted
Massachusetts to benefit his Democratic
party. It was thought to look
like a salamander.
electoral districts so as to all but guarantee outcomes — goes on and on. It dates from 1812.
In June or before, the Supreme Court is expected to have its say on whether a couple of states — Wisconsin and Maryland — have gone too far. The Court has several times in the past stepped in to halt mapping that is… Read More »