Jared Schmeck is a 35-year-old father of four, a former police officer now working at the electrical company run by his father, and living with his wife Amanda and the kids — sons Grant and Hunter, and daughters Penelope and Piper — in Central Point, Oregon. On Christmas Eve they traditionally call the the North American Aerospace Defense Command which simulates tracking Santa Claus as he delivers presents around the world, with the President and First Lady patched in to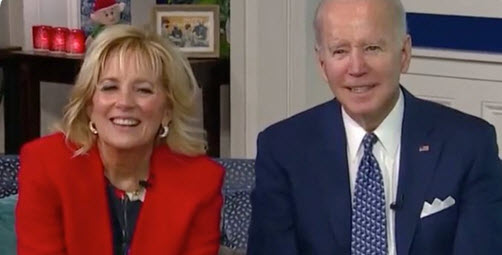 The President and First Lady
take phone calls and asking kids what they hope to get for Christmas. It's an annual tradition of NORAD since 1955. But this year when Jared called in he found himself talking to the Bidens. "I thought, 'wow, this is real'", he told Portland's The Oregonian.
The amicable call, full of good wishes for Christmas, ended with:
Joe Biden: By the way, you guys have to be in bed by nine o'clock, you know, and asleep between nine and twelve or he doesn't show up.

Jill Biden: This isn't to you, Jared. This is to the kids (Jared laughs in the background)

Joe Biden: I hope you have a wonderful Christmas.

Jared: Yeah, I hope you guys have a wonderful Christmas as well and Let's Go Brandon.
Seemingly clueless, the president answered, "Let's Go Brandon, I agree". Clueless, because "Let's Go Brandon" is a stand-in for "F**k Joe Biden". NASCAR fans had chanted this at a Talladega race; trying to cover up on network television, the announcer said he thought he was hearing "Let's Go Brandon" for the driver, Brandon Brown, who had just won his first race.
Mr. Schmeck's slur was stunning incivility, the more so at Christmas coming from one who would later say, "I am a Christian man". It… Read More »