They seemed like paranoia, the editorials and op-ed pieces that predicted Donald Trump would refuse to leave, ours as well, but his every move since Election Day has borne out the predictions. Even so, disbelief caused some to reassure "He's tweeting about filing some lawsuits, those lawsuits will fail, then he'll tweet some more about how the election was stolen, and then he'll leave".
There's no sign of that. "If you count the legal votes, I easily win," Mr. Trump said from the White House briefing room two days after the


Twelve days after election, with Twitter annotating almost all his tweets

election. "If you count the illegal votes, they can try to steal the election from us, if you count the votes that came in late". The nation cringed and most television networks cut away, but Trump has continued ever since.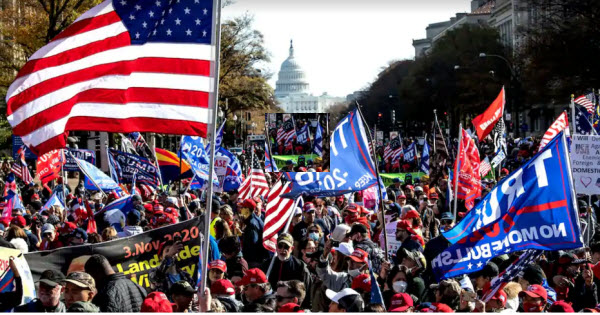 Some 20,000 came to Washington D.C. for the Trump March on November 14th.

Campaign lawyers have filed over 30 lawsuits over alleged irregularities in states where even a win in court would not overcome wide vote margins. All save one lost (poll observers in Philadelphia were allowed to stand closer to poll workers) . "He knows he's lost" came anonymous voices from inside the White House, but as he runs short on options, Trump has gone to the new and astonishing extreme of trying to block state election boards from certifying election results while simultaneously inducing legislators to overturn their people's vote for Biden and hand their state's Electoral College vote to Trump.
In a seditious attempt to subvert the election, Trump invited the two most senior Republicans in the Michigan state legislature to the White House assuredly to try to persuade them to choose the Trump slate of electors rather than Biden's for their meeting on December 14th when they will vote. White House press secretary Kayleigh McEnany denied… Read More »