Reaction to the Justice Department dropping all charges against Lt. Gen. Michael Flynn, President Trump's first national security adviser, immediately split across the political divide where those on the right who say say Flynn was entrapped by the corrupt FBI faced off against those on the left who say erasing guilty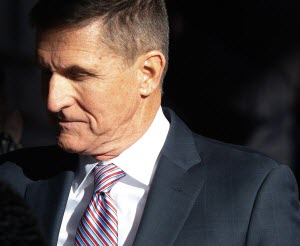 pleas is the latest proof that the Justice Department has become corrupt.
It's a much broader story. Read on.
Upon announcement, President Trump tweeted, "Yesterday was a BIG day for Justice in the USA. Congratulations to General Flynn and many others". He pronounced Flynn "exonerated". Trump's tweet continued, "I do believe there is MUCH more to come!" That looks to be advance notice that Trump and his attorney general, William Barr, plan to undo every indictment filed by Robert Mueller and company with pardons coming for Paul Manafort, Roger Stone, George Papadopoulos and others deemed loyal.
Trump declared that his former aide had been "an innocent man" all along. He accused the Obama administration of targeting Flynn, for which there is no evidence, and said, "I hope that a big… Read More »