fascism
Mar 3 2021
Over the past year we began filling a file of incidents, statements, policies in the Trump ambit that had seeming fascist overtones. Charlottesville, of course, Trump's signaling the Proud Boys to "stand back and stand by", and so on. Thinking it too inconclusive, we never wrote it up.
But the president's campaign of lies to claim a fraudulent election culminating with his telling the faithful to come to Washington, to "Be there, will be wild" on January 6th, and the elements attracted by the president's call, made it clear that Trump was turning a corner for the Republican Party, and he continues to lead it.
On the last day of February the Conservative Political Action Conference (CPAC), a must-attend for all on the right to show their bona fides, held its annual get together in Orlando, its usual locus, D.C., having become to fraught with risk (see above). It was discovered that the design of the stage was in the same pattern as an "odal rune" (photo next page).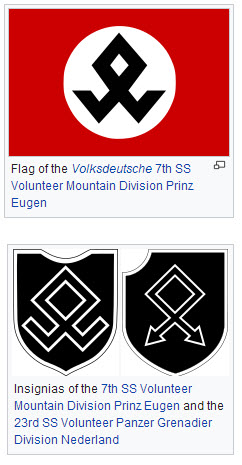 Variations on the odal rune symbol
and World War II units that wore them..

Derived from languages such as Old High German and relating to nobility, inheritance, and landowning from a time when the Teutonic landscape was filled with hundreds of principalities and… Read More »