They were tearful, they were angry, they demanded action and an end to the epidemic of death killing our youngest. It was commendable and cathartic that Donald Trump brought together those suffering from the Parkland shooting to listen to their pleas.
But then came the reveal. When the president began to speak, it became evident that the people who had come up from Florida were props at a staged event for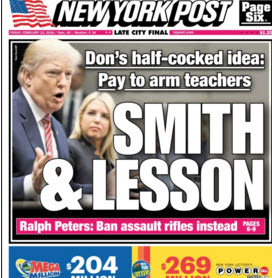 Trump to deliver his predetermined solution to school shootings. It is a solution right out of the playbook of the National Rifle Association — payback for the $30 million the NRA spent on Trump's campaign. The solution? More guns. We should arm the teachers.
"It's called concealed carry, and it only works where you have people very adept at using firearms…" he began, and would continue in the following days with…
"We have to harden our schools, not soften them up. A gun-free zone to a killer …that's like going in for the ice cream, that's like here I am, take me. But I think we need hardened sites. We need to let people know, you come into our schools, you're gonna be dead".
No thought is given to the opposite: banning civilian ownership of battlefield weapons designed only for killing the maximum number of people. Trump is so completely owned by the NRA that he was repeating what its executive vice-president, Wayne LaPierre, had said just hours earlier at the annual… Read More »