Left-wing cable news and punditry cannot bring itself to admit the colossal failing of President Biden's evacuation of Afghanistan, but its damage will endure throughout his term in the White House. He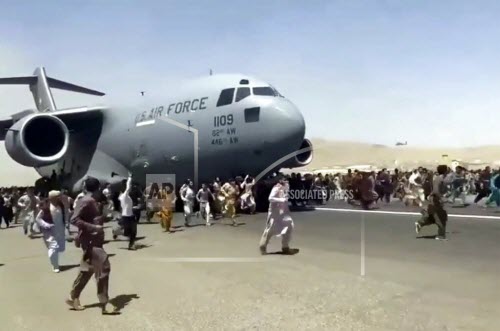 postured to show resoluteness, setting deadlines where there should have been none, and turned to his priority, the two gigantic bills in Congress. He seemed oblivious to what was coming at him, as we wrote in June in a piece concerned for getting out of the country those who had helped the U.S. military, contractors, and diplomatic corps:
In his headlong rush to pull out the troops, pressing for mid-July rather than his original September 11 deadline, President Biden seems only at this last minute to have discovered that we are entirely unprepared to rescue the interpreters, drivers, cultural advisers, security guards, many of whom have been embedded with our troops, living with them at remote firebases, risking their lives on combat patrols, and now face inhuman retribution by the Taliban for their having rendered essential service to the U.S.
and we went on to say that Biden "perhaps should worry that he faces his own Saigon moment". We now know that his inattention extended to Americans in country as well, with no advance planning in evidence for getting out an estimated 10,000 to 15,000 countrymen and women.
Even had the Taliban made nowhere near the gains of the last few weeks in which they were rolling up one after another provincial city, some without a shot fired, with Afghanistan security forces changing into civilian dress to melt into the marketplaces — even had the Taliban moved slowly, it was manifest that extraction needed to begin months ago. Had the administration forgotten Saigon?
Fingers pointed in every direction. Joint Chiefs Chairman Gen. Mark Milley pointed his at the intelligence agencies, saying, "There was… Read More »