Richard Nixon believed that, "When the President does it, that means that it is not illegal". That above-the-law notion seems to prevail even for president-elects, given that, for defrauding students who attended Donald Trump's real estate courses at his so-called "university", he needed only to write a check to make it all go away. The settlement, just ten days before the case was to go before a jury, puts an end to two class action suits in California at which Trump would have been called to testify, and the racketeering (RICO) charges filed by in New York by its State Attorney Eric Schneiderman. In addition there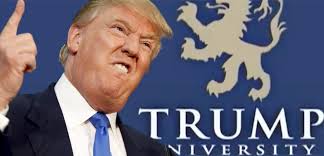 had been investigations by a number of state attorneys general, and the notorious instance of one potential probe being called off after Florida's attorney general, Pam Biondi, received a $25,000 contribution from Trump.
The students were bilked of some $40,000,000, not including time lost, according to Schneiderman's suit, yet Trump — or not even he but one of his companies — need reimburse only $25,000,000 to students for courses that 7,000 in the class actions say were worthless.
And, of course, the settlement does not require Trump to admit to any law-breaking.
Trump University closed its doors… Read More »