President Trump has said that people choose to wear masks to show dislike of him. He has it backward. Those wearing masks hope to avoid a horrible disease. It is those who refuse to wear a mask who are making the statement, showing their support of Trump by following his lead: the example the president has set to not wear a mask if it doesn't suit you.
"I think wearing a face mask as I greet presidents, prime ministers, dictators, kings, queens, I don't know, somehow, I don't see it for myself. I just don't."
The strange irony is that Trump, who views restoration of a healthy economy as key to his re-election, condones the very behavior necessary to keep people healthy enough to rebuild that economy.
There may be a deadly pandemic loose in the world, but for Mr. Trump self-image takes priority. A mask would make him appear weak, seems to be his thinking, as if his mask-free countenance will make SARS-CoV-2 sound retreat. With everyone around him tested daily, he can feign bravery, strutting defiance for his followers to see. Playing to them, he mocks Joe Biden, saying he's hiding in his basement, and fearfully masked when he ventures out.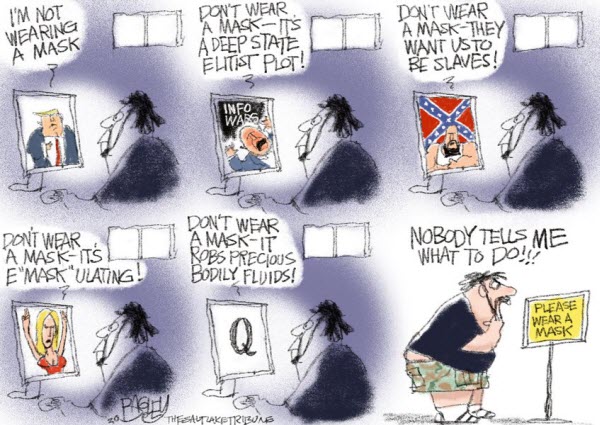 Bagley. The Salt Lake City Tribune.

His followers copy him, adopting ideological tribalism. To that they add their own proud self-image of being an American standing tall for freedom and personal liberty. No one gets to tell them what to do.
Former Major League Baseball player Aubrey Huff says, "Hell, I would rather die from coronavirus than to live the rest of my life in fear and wearing a damn mask". No you wouldn't, Aubrey. A Costco… Read More »