immigration
And it's because Obama can't be trusted
Feb 16 2014
No sooner had the votes been counted in the 2012 election than immigration reform became a top priority. After doing nothing to fulfill a 2008 campaign pledge, after instead deporting more undocumented immigrants than any president before him, Barack Obama owed reform to the Latino population, 71% of whom voted for him.
For that same reason, Republicans realized that they had better spearhead reform, because if they failed to attract the growing Hispanic voting bloc, the party's gradual extinction was a possibility. Mitt Romney's vow to repeal the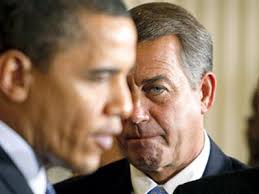 DREAM Act, if enacted, and his encouraging "self-deportation" of illegals had been a potent insult to those Latinos here legitimately and able to vote, and their support dropped to 27% from the 40% won by George W Bush. Clearly, something had to be done.
on second thought
Fast forward to now. Speaker John Boehner announced in early February that something had turned to nothing. No action will be taken about immigration by the House for this entire year. The urgent need to resolve the issue that came to light in November 2012 is deemed to no longer matter politically and politics is all that matters. Newly emboldened by Obamacare, Republicans believe themselves less in need of the Hispanic vote. The multiple failures and faults of the healthcare law offer so rich a vein to tap in election campaigning that there is growing confidence by the GOP that they can even gain control of the Senate.
Boehner reversed field from just a week earlier when he said, "This problem's been around for at least the last 15 years so I think it's time to deal with it". After weeks of debate, House Republicans had come up with a one-page draft that spelled out the terms for legislation that the Speaker viewed as "a fair, principled way for us to solve this issue".
What caused the back flip? An onslaught from the rightmost elements of the Party — groups such as the Tea Party Patriots, FreedomWorks, the Heritage Foundation — that view the proposed terms of reform as "amnesty" and from a practical standpoint find reform as too divisive an issue within their own ranks to broach in an election year. Cowed once again — think back to his caving in to the extreme elements of the Party over the government shutdown — Boehner sounded retreat.
obama's fault
For public consumption the reason is that President Obama is to blame.… Read More »