the media
Claims of Media Bias Arise in Gaza Coverage
A pro-Israel slant seems undeniable
Aug 6 2014


Coming up with fair and balanced reporting that gives Hamas an equal voice is a tough assignment for the U.S. media. Few would argue that they deserve it, so why try?
But our television media do need to be called out for giving excessive time to Israeli emissaries. They have trooped to network and cable news channels in legions to make Israel's case. One wag said that Israel's Prime Minister Benjamin Netanyahu might be mistaken for a news anchor, so often has he appeared to make his claim that Hamas is using civilians as "human shields". His envoy Ron Dermer had at one point been accorded 55 interviews by the media. More assuredly since.
During the 72-hour truce, the Fox network televised a Netanyahu press conference in which, four months on, he again made his human shield claim. Has any foreign leader been given the level of access to the American public accorded only to the American president? In that same program, a guest not worth naming spoke of Hamas "holding innocents in front of them to induce civilian casualties", with his hands extended as if holding someone. That went unchallenged. To document Fox's round-the-clock bias favoring Israel would run to thesis length.
Bias extends to getting other facts wrong. We have lost count of how many times newscasters and interviewees referred to the war "that Hamas started". It's only fair at least to acknowledge that Israel cast the first stone this time. When three Israeli youths were murdered, Israel, with no evidence, assumed that Hamas was the perpetrator even though the kidnapping took place near Hebron in the West Bank, to which Gazans have no access (see related story). The Israeli military lashed out against Hamas targets in retaliation, as can be seen in this video clip dated July 1. That's a week before Hamas launched its first rockets. But somehow Israel's assault doesn't count for the U.S. media. We've heard Hamas accused always on Fox, from Andrea Mitchell of MSNBC, even Charlie Rose, who didn't seem to hear Hamas leader Khaled Meshaal correcting him during an interview.
Hamas is blamed in the media for breaking every cease fire with its pre-conditions — the end of the siege, release of prisoners, etc. No mention is made of Israel every time unilaterally reserving a deal-breaking pre-condition to itself. Its military presumed the right to continue destroying tunnels during any cease fire. Doubtless Hamas balked because if no resolution comes from a cease fire, it would have nothing to show for its cooperation other than more destroyed tunnels. We saw no report of that as a reason for aborted cease fires until four weeks into the war, when it was mentioned in a New York Times article that reported the instant end of the 72-hour cease.
Lacking any basis, the media recites that the tunnels were built to "kill or kidnap" Israeli citizens (and kindergarten children). Except that the tunnels have been in existence for some time and that has never happened. And why do they have "railroad" tracks if not for smuggling supplies? They ultimately were used for commando raids behind the lines inside Israel when the Israel Defense Forces (IDF) moved into Gaza. That's a valid war tactic, not terrorism.
the human shield debate
Before the IDF moved in, Hamas urged civilians to stay in place as something of a show of defiance. And Hamas-controlled television also downplayed Israel's warnings as psychological games to be ignored. But there is no evidence to show that Hamas continued to tell people to stay in their neighborhoods or has held people from leaving areas under attack — the definition of "human shield" under accepted laws of war.
Nevertheless, at the outset, Netanyahu latched onto the Hamas directive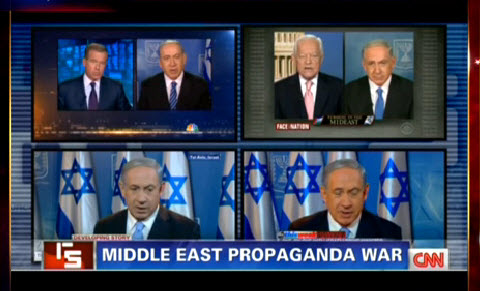 The ubiquitous Mr. Netanyahu
and wouldn't let go. "We're using missile defense to protect our civilians and they're using their civilians to protect their missiles". His objective was to sway public opinion that Hamas, not Israel, is to blame for the tragic toll of human life from the Israeli bombings.
Almost three weeks into the conflict, Netanyahu was still making the accusation against Hamas:
"We tell the civilians 'leave'. Hamas tells them to stay…Because it wants to pile up these civilian casualties. So any of these regrettable, tragic civilian casualties should be placed at the responsibility of Hamas. Hamas is a terror organization … that not only wants to kill our people, it wants to sacrifice its own people. It uses them as human shields, and therefore it should be blamed and not Israel".
Proof is lacking, however. See if you can find human shields in this account from inside Gaza. One might think Netanyahu risks being viewed as another Putin in his attempt to transfer blame for civilian deaths to the opposition. But not in the U.S. media, where he is repeatedly given air time to make such statements.
Civilians interviewed by media deny that Hamas is forcing them to stay home. Those who stay put say there is nowhere to go that isn't under bombardment by Israel, and they are not allowed to leave the walled-in Gaza Strip. Others say they refuse to give up their land to invaders. They also stay to try to defend their homes from destruction, saying that Israeli troops are in the practice of trashing the interiors. That family standing in defiance on the roof may be acting as human shields, not in obedience to some Hamas dictate, but simply to beseech Israeli aircraft not to destroy their house.
The claim that Hamas was restricting its citizens to their own neighborhoods became untenable when so many people were known to have fled from their homes in search of shelter elsewhere. Almost four weeks into the war, Hanan Ashrawi of the PLO said on Fox that 473,000 have been displaced by the relentless bombing. The shelters are overwhelmed.
The human shield claim shifted to assertions that Hamas fires its rockets from populated areas and stores them in places where people assemble — schools, mosques and hospitals. A slim number of examples arose to prove it. The Washington Post cites rockets found in schools and a group of men seen moving small rockets into a mosque. UNRWA, the United Nations refugee agency, found rockets in two schools. The schools were vacant, however.
But the claim is also exaggerated. An article at an Israel-oriented site that claims to be independent says makes the unsupported statement that on July 30, "the Israeli Air Force bombed 40 mosques in Gaza … In total, at least 50 mosques have been blown up along with their stockpiles of rockets and arms caches." How could the air force know the contents of no less than 50 mosques?
Another from The Jerusalem Post shows aerial photos which, regrettably, cannot be enlarged and in which any rockets are thus indistinguishable.
But our media has been much more accepting of Israel's claims. They may prove entirely valid but it is journalism's job to be wary until proof can be found.
In any case, people recently killed in multiple instances of schools and hospitals struck by Israeli fire are certainly not human shields. These facilities now serve as shelters from the raids. Sixteen civilians who had taken refuge in a school were killed. Earlier Israel had struck a hospital, killing five. Then nine children dead in Gaza City's main hospital, with either side accusing the other. Ten killed in the Shati refugee camp. Fifteen killed when Israel shelled a marketplace filled with people taking advantage of a four-hour lull that Israel itself had declared. Four Israeli artillery shells killed 20 in a school at a refugee camp where 3,300 thought they had found shelter. An Israeli spokesperson said that "militants fired mortar shells at (Israeli) soldiers from the vicinity". The claim that Israel takes the utmost precautions not to endanger civilians was undermined by that person saying that the artillery unit had "responded by firing toward the origins of the fire".
The Israeli military has lately begun to say that errant Hamas missiles are to blame. It at first ducked responsibility for destroying the only power plant supplying Gaza with electricity, plunging most of Gaza into night-long darkness, disabling sewage pumps that cause waste to run in the streets, knocking out the filtration pumps needed to make Gaza's brackish water drinkable. This was an attack on the civilian population, not Hamas.

Whereas once Israel could claim it warned civilians with leaflets, phone calls, and even "a tap on the roof" — a small bomb on a rooftop to signal that a large bomb was on its way — Israel's position has weakened as the war rages on. Photos such as this one show devastating and indiscriminate bombing of population centers.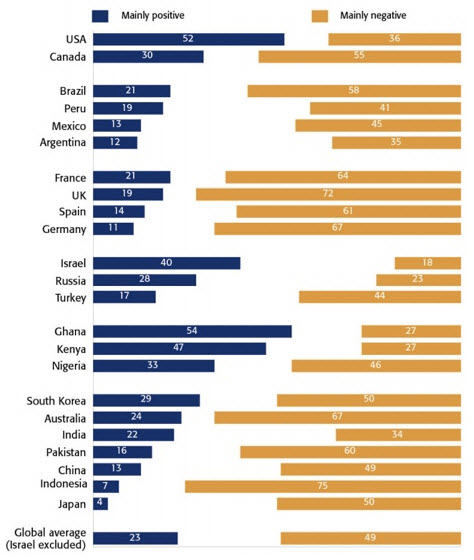 International reaction is increasingly running against Israel, as this chart from the BBC shows. The question to be asked is: does the U.S. media's partiality toward Israel explain why the U.S. supports Israel more than any other except (who knew?) Ghana?
To return to this page, enter : http://letsfixthiscountry.org/?p=1267