the presidency
Trump Will Not Go Gently
Signaling he'll fight leaving office
Mar 18 2019


The last thing Michael Cohen said as a day of hearings before the House oversight committee ended was, "Given my experience working for Mr. Trump, I fear that if he loses the election in 2020, that there will never be a peaceful transition of power". Far-fetched? In an interview with Breitbart last week, Trump said this:
"I can tell you I have the support of the police, the support of the military, the support of the Bikers for Trump — I have the toughest people, but they don't play it tough — until they go to a certain point, and then it would be very bad, very bad".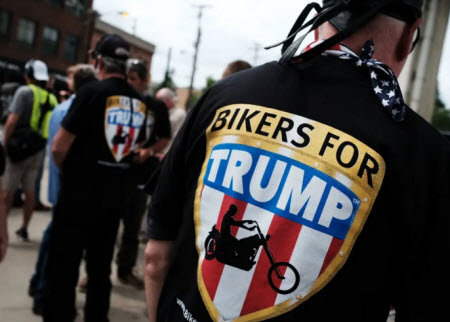 Donny Deutsch, something of a New York fixture — he founded a marketing communications agency, became a business television personality, and now often comments on left-wing talk shows — knows Donald Trump and is a good friend of Michael Cohen. He knows what Cohen knows about Trump. Deutsch has repeatedly sounded the alarm about the president. In January he said about impeachment:
"He's going to tell people to take to the streets. He owns 50-60 [million], how many voters, about 30%?. He's going to say 'They're trying to take your president away. Don't let them do it. We're going to the streets. We're going to create a civil war.'"
Reading this, one's reaction may be, that's not going to happen. Commentators branded it delusional and an insult by Trump to think that the police, the military, would forswear their allegiance to the country, their oath to uphold the Constitution, only to protect Donald Trump should he refuse to leave the White House.
But those clearly are factions that Trump thinks he can commandeer, given that he has said much the same before, however incoherently, on three occasions in the run-up to last year's elections:
November 4: "They're tough guys, right? Where are the bikers for Trump? Where are the police? Where are the military?"

September 21: "But they wear , they wear the tough black outfits. Oh, I would never suggest this but I will tell you, they're so lucky we're peaceful…. Law enforcement, military, construction workers, Bikers for Trump. How 'bout bikers for Trump. They travel all over the country. They got Trump all over the place. And they're great. They've been great. These are tough people. These are great people".

November 11: "'Cause we are tough as hell. We...we're gonna say that. Don't forget, we've got the police. Law enforcement loves us."
Trump has often spoken in the language of violence, several times in the 2016 campaign rallies. He thought the "Second Amendment people "might be a solution to Hillary Clinton being free to appoint judges if elected. At rallies he himself threatened "I'd like to punch him in the face" about a protester in the audience and urged the crowd to...
Knock the crap out of them, would you? Seriously, OK? Just knock the hell...I promise you I will pay for the legal fees. I promise".
As the 2020 election approaches, we will again see Trump campaign to sow distrust of the electoral process saying as he did in 2016 that it is "rigged", setting up so as to claim that if he loses it will be a fraudulent election. He would then call upon these forces he claims are behind him to defend his staying in the White House. That's the worry of not just a few.
It's not just Trump's desire to cling to power, to be "president for life" as Deutsch says. It is believed that U.S. attorneys in the Southern District of New York are building a RICO case (the Racketeer Influenced and Corrupt Organizations Act of 1970) that would brand the entire Trump Organization as a criminal enterprise. Trump fears he will be arrested and indicted the moment he leaves office. The White House is the one place where he is safe.
To return to this page, enter : http://letsfixthiscountry.org/?p=1967