law
Michael Flynn: A Man Wronged or Justice Gone Wrong?
May 12 2020


Reaction to the Justice Department dropping all charges against Lt. Gen. Michael Flynn, President Trump's first national security adviser, immediately split across the political divide where those on the right who say say Flynn was entrapped by the corrupt FBI faced off against those on the left who say erasing guilty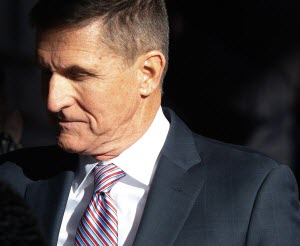 pleas is the latest proof that the Justice Department has become corrupt.
It's a much broader story. Read on.
Upon announcement, President Trump tweeted, "Yesterday was a BIG day for Justice in the USA. Congratulations to General Flynn and many others". He pronounced Flynn "exonerated". Trump's tweet continued, "I do believe there is MUCH more to come!" That looks to be advance notice that Trump and his attorney general, William Barr, plan to undo every indictment filed by Robert Mueller and company with pardons coming for Paul Manafort, Roger Stone, George Papadopoulos and others deemed loyal.
Trump declared that his former aide had been "an innocent man" all along. He accused the Obama administration of targeting Flynn, for which there is no evidence, and said, "I hope that a big price is going to be paid." Mr. Trump said of investigating Flynn, "It's treason. It's treason."
Critics of the Justice Department's extraordinary move — one would be hard put to find instances of Justice reversing a guilty plea — could point to the decision as blatantly political. Former acting U.S. Solicitor General Neal Katyal called it, "outrageous and indefensible and one of the greatest threats to the rule of law that Trump has done in his three years". For New York Democrat Jerrold Nadler, chairman of the House Judiciary Committee, "A politicized and thoroughly corrupt Department of Justice is going to let the president's crony simply walk away."
The president has all along been signaling his sympathy for Flynn. He has called him "a wonderful man", "a fine person", "a very good person", and says he was maltreated. He had advisers pass messages to Flynn conveying his concern and encouraging him to stay strong. He has said he was "strongly considering" a full pardon. In February 2017 the president tweeted,
"I had to fire General Flynn because he lied to the Vice President and the FBI. He has pled guilty to those lies. It is a shame because his actions during the transition were lawful. There was nothing to hide!".
Flynn had lied about phone calls made in late December, 2016, to Sergey Kislyak, then the Russian Ambassador to the United States. The day after Flynn submitted his resignation, the president asked FBI Director James Comey to dinner at the White House to make a request: "I hope you can see your way clear to letting this go, to letting Flynn go". Comey's doing no such thing and his failure to pledge loyalty to Trump led to his firing, which in turn caused the investigation of Russian interference in the 2016 election to be turned over to a special counsel, former FBI director Mueller.
Trump professed to know nothing about Barr's plan to have Justice drop the case, but when asked on April 30 about the likelihood of a pardon, Trump said he didn't think he'd have to, telegraphing that he was in on the plan.
Flynn was hardly a good choice for the important post of national security adviser. He had posted multiple conspiracy tweets alleging that Hillary Clinton's campaign manager, John Podesta, drank the blood and bodily fluids of other humans in Satanic rituals. He tweeted about "New Hillary Emails: Money Laundering, Sex Crimes w Children, etc" in the wake of the Pizzagate fable of Ms Clinton's supposed involvement in a sex trafficking scheme out of a D.C. pizzeria named Comet Ping Pong. He had led chants of "Lock her up!" at the 2016 Republican National Convention.
fbi hardball
The release this April of FBI notes about its interview with Flynn was the predicate for the government dropping the charges against Flynn. They exhibit the prejudicial bent of certain of the agency's higher-ups that have already gotten the Bureau into trouble, the anti-Trump e-mails of Peter Strzok and Lisa Page, the use of the Christopher Steele dossier in error-ridden FISA filings. Flynn was suspected of lying when he denied to White House officials that in December 2016 phone calls to the Russian Ambassador he had discussed President Obama's new sanctions against the Kremlin. The FBI got wind of the calls and set up an interview for January 24, 2017. The just-released notes taken preparatory to the interview, allegedly by E.W. Priestap, the FBI's former assistant director for counterintelligence, said,
"What is our goal? Truth/admission or to get him to lie, so we can prosecute him or get him fired?"
Flynn's lawyers claimed the FBI had improperly trapped Flynn into lying and fought to get the Justice Department to turn over the handwritten notes. Entrapment is contradicted by the agents who conducted the interview, who said at the time that they didn't think Flynn had lied to them, that he had a "very 'sure' demeanor", and even Director Comey said it was a "close" call.
Flynn's defenders say the FBI was out to get him, and if the FBI is out to get you, it is not above using its power abusively to extract information from a suspect. President Trump said of the senior FBI and Justice Department officials who pursued him, "They're scum — and I say it a lot, they're scum, they're human scum".
But entrapment or no, the FBI's predatory plotting does not undercut the fact that Flynn had in fact lied to the FBI and others when he claimed he had not discussed sanctions with the Russian diplomat. A fortnight later in his resignation letter Flynn admitted making misleading statements — he called it "incomplete information" — to Vice President Pence about the Kislyak calls. On Face the Nation in 2017 Pence said, "I can tell you that Flynn lied to me and the president did the right thing" in firing him.
reconsideration
The Justice Department has structured the FBI's actions intricately to arrive at their rationale for voiding the general's guilty pleas. Calling them "the frail and shifting justifications for its ongoing probe of Mr. Flynn", the court filing says the FBI had decided to end its inquiry into whether Flynn was collaborating with Russia, and only then learned of the phone calls to Mr. Kislyak through routine government wiretaps. With reason to suspect that Mr. Flynn might be involved in a national security breach, they kept their investigation open to question Flynn about his conversations with the Russian ambassador.
Shea says there was nothing about Flynn's Russia contacts "to indicate an inappropriate relationship between Mr. Flynn and a foreign power", despite his then being a private citizen tampering with U.S. foreign policy, and that "the FBI was eager to interview Mr. Flynn irrespective of any underlying investigation". In filing reads that
"[T]he government has concluded that [Flynn's FBI interview] was untethered to, and unjustified by, the FBI's counterintelligence investigation into Mr. Flynn" and therefore "conducted without any legitimate investigative basis."
The underlying investigation having been dropped, the claim is that the interview was disconnected, taking place in a legal void. Barr said on CBS News, "They did not have a basis for a counterintelligence investigation against Flynn at that stage". Therefore, the further FBI investigation of Flynn by the Mueller team should not have existed at all, which means all subsequent charges against Flynn had no basis, because the law only allows prosecutions of false statements when those statements are "material" to a pending investigation. Barr said the Justice Department was duty-bound to dismiss the case because "a crime cannot be established here."
These assertions are hotly disputed by legal analysts who find breaking the Flynn probe into two parts an entirely false contrivance. Only Shea signed the filing; no other career prosecutor at Justice would join him. Brandon Van Grack, a Mueller team member and veteran prosecutor on the case, withdrew from the prosecution. Mr. Van Grack had said in earlier court filings that the "topics of sanctions went to the heart of the F.B.I.'s counterintelligence investigation" and "any effort to undermine those sanctions could have been evidence of links or coordination between the Trump campaign and Russia." Calling the FBI interview of Flynn's discussing sanctions with Kislyak "untethered" is a sham.
his roy cohn
Behind this extraordinary development was, of course, Bill Barr. Just months before, Barr had moved to soften the sentence of Trump confidant Roger Stone. Four prosecutors quit the department over that override. Before that he had stepped in front of the Mueller Report when it was submitted to his department after two years of work. In a hastily issued four-pages, Barr deliberately mischaracterized the report's 448 pages to make it appear that Trump was effectively exonerated from any Russian involvement, allowing that to steep in the public consciousness for two weeks before the report, with its malfeasance and 10 instances of obstruction, was made public. Barr's Justice Department has now, certainly at his instruction, petitioned the Supreme Court not to allow the release of redacted portions of the Mueller report, even to those with classified clearance. That makes it apparent that he had his department redact material he deemed important to hide beyond even now, months after the Russia investigation has all but vanished into American amnesia.
Barr got his own characterization as the president's personal lawyer instead of the nation's, and has been called the most troubling member of the Trump administration for having pursued a political agenda from the moment he walked through the door.
"Bill Barr is a man of unbelievable credibility and courage and he's going to go down on the history books", Trump told "Fox & Friends". He said that if Barr had been his first attorney general, there would never have been a Russia probe. "He would have stopped it immediately".
That doesn't seem exaggerated. Barr authored a 19-page memorandum that won him his job by criticizing the Mueller obstruction inquiry and arguing that a president could not be investigated while in office. He said in an interview in April that the Mueller investigation was started "without any basis".
It is unusual to the point of unheard of for the Justice Department to undo a guilty plea.
"Attorney General Barr's politicization of justice knows no bounds," said House Speaker Nancy Pelosi (D-Calif.). "Overruling the Special Counsel is without precedent and without respect for the rule of law." Over 2,000 former DOJ employees are calling on Barr to resign. Harvard constitutional scholar Laurence Tribe said to Washington Post columnist Jennifer Rubin, "What Barr has done on Trump's behalf with respect to Flynn, who entered a fully justified guilty plea that the district court duly approved, is blatantly and purely partisan", adding, "I know of no similarly corrupt action in the Justice Department's entire history."
Barr, in a CBS News interview, said, "There's only one standard of justice...I also think it's sad that nowadays these partisan feelings are so strong that people have lost any sense of justice". Neal Katyal doesn't think that. He observed, "There's one form of justice for Trump's pals and one form for the rest of us."
why has this gone on?
It started a week before Trump's inauguration when Washington Post columnist David Ignatius revealed that American authorities had intercepted a phone call on December 28th between Flynn, who was tapped by the president-elect to be his national security adviser, and the Russian Ambassador. The call was on the day before President Obama was to impose new sanctions on Russia and expel 35 of its diplomats in retaliation for Russia's trying to influence the American elections. Reuters followed the Post a day later to say there had been five phone calls between Flynn and Kislyak.
The timing was suspect. Was Flynn calling to assure the Russian that, once president three weeks forward, Trump would make the sanctions go away? And, looking back to December, wasn't it curious that Putin uncharacteristically said he would not retaliate against the sanctions? Trump had immediately tweeted, "Great move on delay (by V. Putin) — I always knew he was very smart!".
There were other questions about Flynn's activities that drew the FBI's attention. He lobbied on behalf of the Turkish government but lied repeatedly about taking money, having failed to file required documents as an agent of a foreign government. He was paid to go to Russia in 2015 where he was photographed seated alongside Vladimir Putin at dinner. He was working on a beclouded for-profit nuclear-reactor scheme in the Middle East.
The Mueller office swept those issues aside, as well as possible charges against Flynn's son who had been involved in these same activities at his dad's consulting company, in return for Flynn in December of 2017 pleading guilty to making false statements to the FBI about his conversations with the Russian ambassador. He entered a second guilty plea in 2018. His actions were a violation of the Logan Act, which bars private citizens from interfering in disputes between the United States and another country. But the Logan Act dates from 1799. No one had ever been prosecuted under it. Guilty pleas for lying to the FBI sufficed.
The intention of his calls to the Russian was a tacit withdrawal of Osama's sanctions punishing election interference and to therefore urge that Russia not escalate tensions in retaliation. How do we know that was Flynn's intention? He said so in his guilty plea. And he had already let that be known. Back on the day he resigned he said to The Daily Caller that the talk with Kislyak "was about the 35 guys who were thrown out.?.?. It was basically, 'Look, I know this happened. We'll review everything'?". It was an open admission that the incoming Trump administration was undermining Obama's policy even before taking office.
Flynn was subject to five years in prison, but the Mueller investigation, more interested in what Flynn knew about the Russian intervention and any coordination with the Trump campaign to affect the election, credited Flynn with being a model cooperator and initially recommended only probation as a sentence.
That fell apart. Relations with the feds deteriorated when the government brought a case against his consulting firm partner and tried to bully Flynn into testifying against him. With Flynn becoming uncooperative, prosecutors no longer ruled out following federal guidelines that called for a few months in prison. Flynn had hired new lawyers who took a much harder tack, expressing outrage at the feds' "stunning and vindictive reversal". The retired general now claimed he was the victim of a partisan conspiracy by prosecutors and federal investigators, and that he had been insufficiently represented by his original attorneys, Covington & Burling, one of Washington's most prestigious law firms. Flynn had evidently come to realize, as David Graham at Vanity Fair put it, "Cooperating with authorities might get you off easy, but staying loyal to the president will get you off entirely".
His new attorneys requested withdrawal of Flynn's guilty plea while pressing to get further documentation of the FBI interview unsealed. Barr brought in outside prosecutor Jeffrey Jensen to review the case, undercutting his own department's prosecutors just as he had done for Roger Stone. Flynn's lawyers claimed the interview notes proved the FBI effectively entrapped the general, even though the interview had nothing to do with his admissions of guilt which were almost a year away. The release of those notes and the public uproar that greeted the FBI's tactics gave Mr. Barr ammunition for undoing Flynn's plea deal. Jensen unsurprisingly concluded, "Through the course of my review of General Flynn's case, I concluded the proper and just course was to dismiss the case".
questions
When it became apparent that Flynn had lied to the FBI and the Vice President, Mueller used that to pressure Flynn to provide information about Russian connections in the Trump campaign for the presidency. That cooperation earned Flynn the likelihood of no more than probation as a sentence as we saw. Why, then, did he carry on for two years past that point, steadily worsening his legal position, reportedly having to sell his house, and running up millions in legal fees? Editorialists on the right say that Mueller ruined Flynn's and his family's lives, but it seems that Flynn himself contributed heavily to that ruin.
To return to this page, enter : http://letsfixthiscountry.org/?p=2094