election
Days Before Election, Biden's Involvement in Son's Dealings Surfaces
Nov 3 2020


Ron Johnson, Republican senator from Wisconsin, had made no secret of the objective of his committee's year-long investigation of the Biden family. It would make clear Joe Biden's "unfitness for office", he said. In a radio interview in mid-September he predicted his soon to be released report…
"would certainly help Donald Trump win reelection and certainly be pretty good, I would say, evidence about not voting for Vice President Biden...What our investigations are uncovering, I think, will reveal this is not somebody we should be electing president of the United States."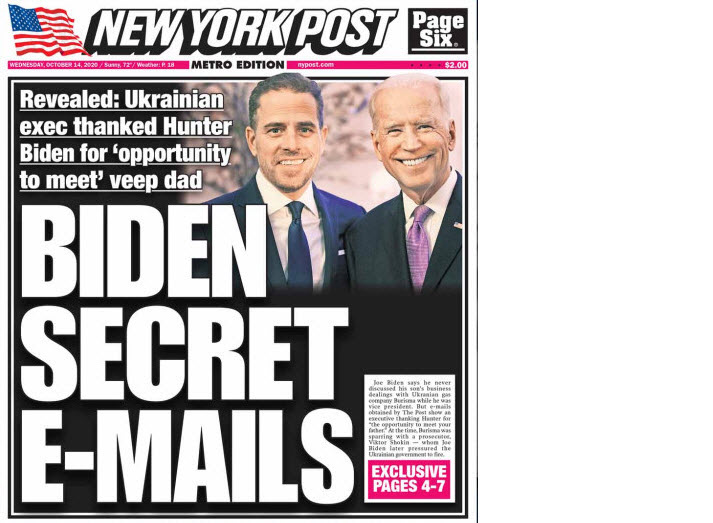 But the report, a joint product of the Homeland Security and Governmental Affairs committee and Chuck Grassley's (R-Iowa) Committee on Finance, fell well short of that when it was released a week later.
It tells us of the State Department's George Kent, working in Ukraine to stamp out corruption, voicing his objections in 2015 and 2016 that the alleged $50,000 a month paid to Hunter Biden for serving on the board of the Ukraine gas company, Burisma Holdings, made it "very awkward for all U.S. officials pushing an anticorruption agenda in Ukraine." The State Department views both Burisma and its its owner, Mykola Zlochevsky, as corrupt.
Much of the report is unrelated to the Bidens; 18 of the report's 87 pages are given over to images of text messages between an official at the Ukrainian embassy in Washington and the Obama administration arranging meetings for coffee or beer, with no idea what the meetings were about.
There are tables suggesting how costly Hunter Biden has been, with trips to some two dozen countries detailed, because, as Joe's son at risk of kidnap and ransom, he is a secret service "protectee" while traveling around the world for his business dealings.
What is ultimately compelling is the final quarter of the report that lists a byzantine labyrinth of substantial movements of money between a myriad of companies formed by Hunter and his associates on one side and Chinese companies on the other. To make any sense of the text calls out for diagramming, as in a Hollywood espionage thriller where all the suspects' photos are taped to a wall and connected by pushpins and strings. If we can assume accuracy, the report does a remarkable job tracing chains of ownership of the Chinese counterparts to state-owned companies and the ruling Chinese Communist Party. It goes no further, however, so we are left to wonder what all these specially created companies do and what these tributaries of money flows are for. The report flags a number of the transactions "for potential financial criminal activity" (and, indeed, Hunter's long-time business associate Devon Archer, and five others — Hunter not among them — were arrested and criminally charged in a scheme to defraud investors with sentencing in January).
The sum of it is that young Biden has been involved in a welter of curious business activities that go well beyond what one would think from media reports so far was only his overpaid board position at Burisma. He and his partners have been in a number of questionable relationships with China, a country increasingly hostile to the United States. Transactions show Hunter receiving receiving millions of dollars from foreign entities in this tangle of business connections woven while his father was vice president of the United States and after. No connection at all is made to Joe Biden in these dealings, but if he becomes president, all this should be hastily ended.
(There is one irony that so many of the report's footnote citations rely on mainstream media sources such as The New York Times and The Washington Post, reporting that Donald Trump calls "fake news".)
someone's lying
Joe Biden went to Ukraine to lead the purge of the country's notorious corruption that blocked the U.S. from funding the Ukraine military's fight against Russian aggression. The Obama administration needed assurance that the money wouldn't fall into the wrong hands. One must was to get rid of the country's chief prosecutor, Viktor Shokin. In 2010 to 2012 the country's prosecutor general had conducted an investigation of Ukraine's gas company, Burisma Holdings, and its owner, Mykola Zlochevsky, over allegations of money laundering, tax evasion, and corruption. But that came to an end when in 2015 Shokin became the prosecutor general. Indeed, beyond taking no investigative action, Shokin was suspected of soliciting bribes from Zlochevsky to make the matter go away. European diplomats, the International Monetary Fund, other international organizations — all wanted him gone.
Biden got that done and crowed about it. During a December 2015 trip to Kyiv the then-vice president threatened Ukraine's president and its prime minister that he would have a $1 billion U.S. loan guarantee withheld. "I looked at them and said: I'm leaving in six hours. If the prosecutor is not fired, you're not getting the money", Biden inappropriately bragged to the Council on Foreign Relations in 2018. "Well, son of a bitch. He got fired."
Republicans prefer their version. The Johnson/Grassley report makes no mention of the international call for Shokin's removal for inactivity and alleged corruption. It baldy states the opposite, that "In 2016, Ukraine's top prosecutor, Viktor Shokin, had an active and ongoing investigation into Burisma and its owner, Mykola Zlochevsky". Biden had Shokin fired because he was actively investigating the company that was paying extravagant sums for his son's highly questionable expertise in matters of natural gas. But even Shokin refutes that he was "actively investigating". At the time of his firing, in March 2016, Shokin said he'd made "specific plans" to investigate.
enter Giuliani stage right
Three weeks after the Johnson/Grassley's report release — October 14th — The New York Post upstaged the report with a "smoking gun" story — those words were in its headline — maintaining that Joe Biden had met with an official of Burisma where son Hunter was a director. If true, that would turn Biden père's claim that he'd "never spoken to my son about his overseas business dealings" into a lie. Biden's staff says that his calendar shows no such meeting.
Rudy Giuliani had been given one of three laptops that had been dropped off by Hunter Biden in April 2019 at a Delaware repair shop. Biden had never picked them up. The store owner poked into their contents and found disquieting material. He turned the machine over to the FBI, but made a copy of the drive. As a Trump supporter he had somehow sought out Giuliani. Given that America's mayor had been in Ukraine willing to speak with anyone and everyone in his search for dirt on Hunter Biden, he was an especially soft target, a "useful idiot" in the Russian phrase for taking in disinformation. He had used unencrypted phone calls with Trump during the earlier Ukraine imbroglio and, thinking he was to be interviewed about Trump and COVID-19, hadn't he instead encountered a woman in the hotel room who enticed him into the bedroom? It was a prank by Sacha Baron Cohen for his latest movie but not before Rudy had asked for her phone number and address.
So, given the Giuliani provenance, the writer of the Post story found the story suspect and even refused a byline; two others who hadn't written the piece were listed instead. In an atmosphere thick with expectations of Russian election disinformation, the story was immediately dismissed as such by other media, and by Joe Biden himself in his debate with President Trump a week later, who called it "a Russian plant". "You mean the laptop is now another Russia, Russia, Russia hoax? You got to be kidding me," President Trump shot back.
Trump had it right. The laptop, retrieved from a Delaware repair shop with a Beau Biden Foundation sticker covering the Apple logo, seemed even beyond the fakery talents of the vaunted Russian GRU, their military intelligence agency. The laptop's hard drive contained a trove of e-mails which certainly looked authentic, the most notable with the subject line "Expectations"




laying out how the equity in a new company set up to do business with Chinese counterparts might be divided between the Biden family and other principals.
the journal takes a pass
The New York Times reported about a trio of Trump campaign allies, looking for an election clincher, who had introduced a reporter for The Wall Street Journal to a man named Tony Bobulinski, whose revelations they thought would lead to a bombshell story in the newspaper. Bobulinksi, a former Navy officer, had been tapped to be CEO of a company being formed by a Hunter Biden associate, a Brit named James Gilliar, with Biden family members lending their names and prestige in return for an equity stake.
But the Journal article never happened. As reporters were drafting their report from their own interviews with Bobulinski, that's when the New York Post story broke. The laptop contained a number of the same e-mails Bobulinski had been showing the Journal from his own data.
The Journal was taking its time. And even President Trump couldn't sell the Biden corruption narrative to CBS News. "This is '60 Minutes,' and we can't put on things we can't verify," Lesley Stahl told the president. So Bobulinski, on a mission as a proud former Navy officer bent on clearing his name, accused by Joe Biden of being an agent of "Russian disinformation", wound up at Fox News with Tucker Carlson.
watched by a cable tv record of 7.6 million
In a full hour interview October 27th, Tony Bobulinski offered an entirely persuasive narrative to demonstrate that Joe Biden has had some involvement in at least one of his son's business deals, the one in which he is presumed to be the "big guy" who would get 10% of the equity.
When in Los Angeles in May of 2017 to speak at Michael Milken's cancer foundation, an arrangement was made for Biden Sr. to meet Bobulinski, who was slated to run the company being formed. What makes Bobulinski's story convincing is his detailed description. When Carson asks him to "Tell us about the conversation", Bobulinski answers:
"I got there a little earlier, and I was sitting with Jim Biden [Joe's brother] and I think Jim Biden was hungry and might have ordered some food, and Hunter Biden and Joe came through the lobby with his security and Hunter basically said, 'Hey give me a second and I'll go over and give me ten minutes to brief my dad and read him in on things' and so then Hunter and his father and security came through the bar and obviously I stood up out of respect to shake his hand and Hunter introduced me as 'This is Tony, dad, the individual I told you about that's helping us with the business that we're working on and the Chinese'.
"So it was clear to you that Joe Biden's son had told him about this business", Carlson asked. "Crystal clear", Bobulinski answered.
Asked by Carlson why did the group "carve out time for Biden to meet Bobulinski", Tony answers,
"Why would Joe Biden want to meet me in a dark bar in the Beverly Hilton behind a column so people wouldn't see us? I'm irrelevant in this story. They weren't raising money from me. There was no other reason for me to be in that bar meeting Joe Biden than to discuss what I was doing with his family's name and the Chinese CEFC."
CEFC, the Shanghai-based conglomerate CEFC China Energy Co., has "a direct connection to the Communist government of China", Carlson said. It was to fund the new company with $20 million.
The following day, Joe Biden asked Bobulinski "to walk with him out to the car...and then he just asked me to sort of keep an eye on his son and his brother", said Tony, clearly amused. "I think he was conscious of things".
Carlson: "It sounds like Joe Biden was vetting you to some extent".
Bobulinksi: "Yes, of course. I didn't request to meet with Joe. They requested that I meet with Joe...They were putting their entire family legacy on the line. They knew exactly what they were doing. They were dealing with a Chinese-owned enterprise run by Chairman Ye [Jianming], CEFC, that had strong financial support and political support from the Chinese Communist Party. That's how it was presented to me."
Carlson: "The former vice president has said he had no knowledge whatsoever of his son's business dealings and was not involved in them at all."
Bobulinski: "That's a blatant lie".
Tony Bobulinski had become angry with the former vice president because of what Biden had said in the debate with President Trump:
I held a top secret clearance from the NSA and the DOE. I served this country for four years in one of the most elite environments in the world, Naval Nuclear Power Training Command, and to have a congressman out there [Adam Schiff: "This whole smear on Joe Biden comes from the Kremlin"] or Joe Biden at a public debate referencing Russian disinformation when he knows he sat face to face with me, that I had traveled around the world with his son and his brother, to say that and associate that with my name is absolutely disgusting to me".
Did Joe Biden ever get a piece of the deal? There's no proof he did. Perhaps the 10% was offered him and he refused. Tony Bobulinski took note that brother Jim Biden's cut was doubled from 10% to 20%, suggesting that perhaps the former vice president was offered a slice but sensibly declined and — the deal being that the Bidens were to get 40% of the deal with Hunter getting 20% — a second 10% share went to Joe's brother instead. And it's uncertain the deal ever got funded. One account says that Chairman Ye vanished.
To return to this page, enter : http://letsfixthiscountry.org/?p=2155